Blade Runner 2049 On 4K- The Ultimate Visual And Aural Home Experience
Blade Runner 2049 was an absolutely incredible film [FIGHT ME] that pairs with it's forebearer extremely well. Director Denis Villeneuve was able to facilitate and present a visual and aural feast for fans of the original Sir Ridley Scott sci-fi noir masterpiece and an entire new appreciative generation of more-human-than-human audiences.
Starring Ryan Gosling, Jared Leto, Harrison Ford, Ana de Armas, Sylvia Hoeks, Robin Wright, Dave Bautista, Mackenzie Davis, and Edward James Olmos, the sequel to the original film is the story of Blade Runner Kay and his place in the world of replicants, the past and the future. Featuring a score by Hans Zimmer and Benjamin Wallfisch, and cinematography by Roger Deakins, this really is a pinnacle of modern filmmaking with a seasoned flare.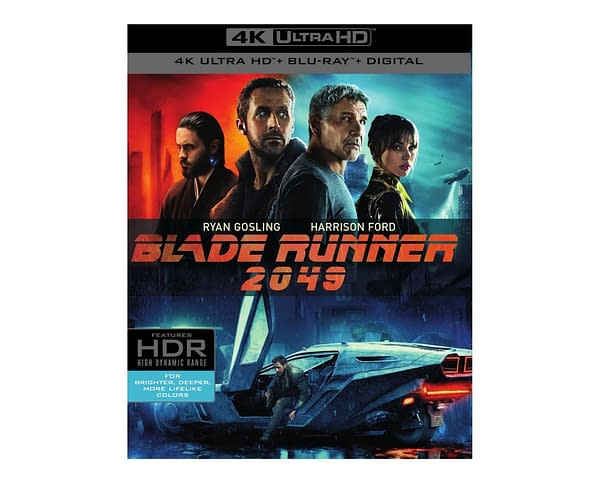 Warner Brothers was awesome enough to send us a copy of Blade Runner 2049 to view and admire, and I can say with zero hesitation this is a disc you'll need in your library. 4k giving viewers 4 times the amount of pixels of traditional 1080 HD, physical media above digital is oddly fitting for this particular film.
I was lucky enough to view the theatrical release of BR2049 in my local Dolby Atmos theater, and the experience left a lasting impression on me. Perhaps it's how strong the film is on it's own, but having a good home theater setup came pretty damn close to that first experience.
I also tried the Blu-Ray disc for comparison sake (not to mention the special features, but you can read what I thought about those here), and it was still equally beautiful on my tv. Yes, I was hoping for a director's commentary- but isn't an option for this particular disc release of the film.
Special features for this release include a set of 2 main BTS featurettes; "Designing the World of Blade Runner 2049" (22 minutes), and "To Be Human: Casting Blade Runner 2049" (11 minutes). There are also 6 super short "Blade Runner 101" featurettes that look at specific things in the film; "Blade Runners", "The Replicant Evolution", "The Rise of Wallace Corp", "Welcome to 2049", "Joi", and "Within the Skies."
You also get the three prologue films released ahead of the theatrical bowing of Blade Runner 2049- "2036: Nexus Dawn", "2048: Nowhere to Run", and "2022: Black Out".
Blade Runner 2049 is available now on 4k, Blu Ray, DVD and digital (also various combo packs).