John Boyega Joins Felicity Jones In New Thriller Borderland
New thriller Borderland has added a pair of Star Wars vets in the leading roles, as John Boyega and Felicity Jones have joined the production. Jack Reynor and Jodie Turner-Smith have also signed on to star in the picture, to be directed by the Guard Brothers (The Uninvited). The film should be going in front of cameras in the UK in early 2021 if everything is back up and running by then. The Guard Brothers wrote Borderland with the help of Ronan Bennett, based on a book titled The Road To Balcombe Street by Steven S. Moysey. Deadline was the first with the news.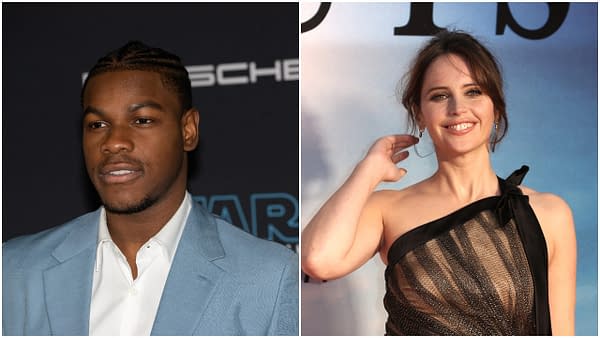 Borderland Synopsis Sounds Promising
"Borderland will follow an Irish paramilitary, Michael (Reynor), who witnesses the shooting of his pregnant wife at the hands of an SAS sergeant named Tempest (Boyega) when a border ambush goes wrong. When Tempest is sent back to London to lead a covert counter-terrorist operation, Michael joins a ruthless active service unit (ASU) wreaking havoc in the capital. For Michael, the mission is personal – to hunt down Tempest – and he'll stop at nothing to avenge his wife's death."
"Borderland is a vengeance fueled chase movie, fusing some pulse ticking action with a powerful message for our times. We're thrilled that the script, driven as much by character as it is by plot, has attracted such a first-rate cast." said the Guard Brothers about working on the film.
Honestly, the cast is pretty great, full of young up and comers and especially Boyega and Jones. Both are looking to keep the momentum of starring in film's from the most popular franchise of all-time going, and both should continue to find success. This sounds like the type of role they can really sink their teeth into, especially Boyega, playing a little against type from how most have seen him.