Paradise Hills is Spanish fashion creative and photographer Alice Waddington's science-fiction thriller feature debut, in which Emma Roberts plays a girl who wakes up on an isolated island in a facility run by the sinister Duchess played by Milla Jovovich, to whom high-class families send their daughters to become perfect versions of themselves.
Paradise Hills takes place in a near-future, not unlike The Handmaid's Tale where society has morphed into two classes: Upper, luxuriating in over-decorated semi-Victorian surroundings, Lower, where no one wants to be. But keeping one's place has its costs, and the society demands excellence and conformity from its members.
Uma, played by Emma Roberts, is having trouble conforming and doesn't want to marry the handsome fool who has been chosen for her. Hence the trip to the island for some reprogramming. Some of the sessions she's forced to undergo are hilarious and strange, such as a sort of infomercial about her fiancé she must view while strapped to a carousel horse. Some of it is not so funny. All of this is handled with humor and patience by Waddington, whose background as a designer and queer creative come to bear in equal measure in Paradise Hills.
Visually, Paradise Hills is a brilliantly-colored and strange delight, awash in pastel and white shades that call to mind Sofia Coppola's Marie Antoinette. Waddington called out films like Picnic at Hanging Rock as inspirations for the look of the movie, in which women in period—and yet not quite familiar—gear spend a lot of time on the well-appointed grounds of the island. Spanish designer Alberto Valcárcel's costumes for Paradise Hills are gorgeous, creating a strange problem for the viewer—what a horrible world, but the dresses are amazing. Atop the costumes, women often face-covers that suggest gilded cages, the meaning of which is not lost on the viewer or the women.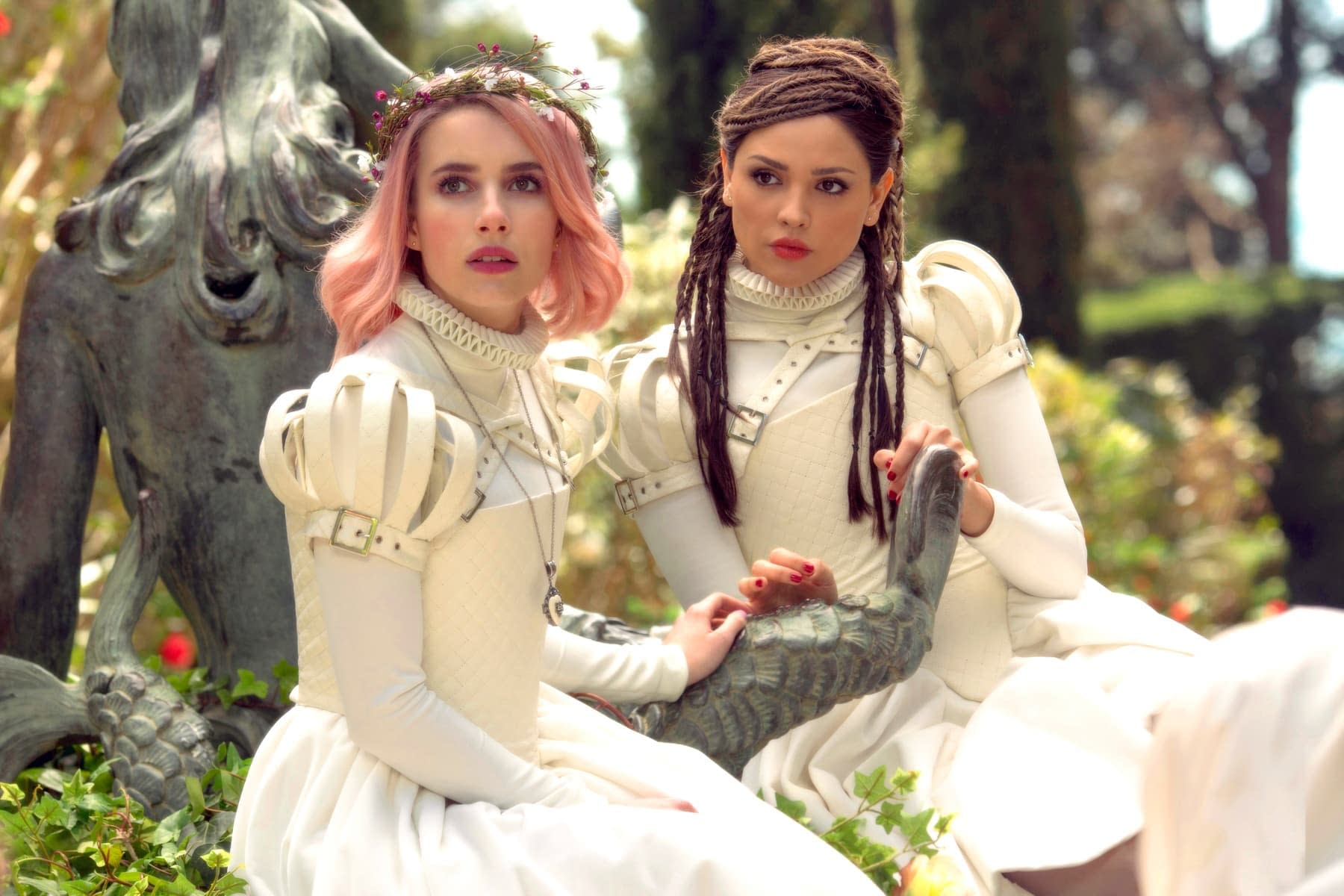 Director Alice Waddington chatted about Paradise Hills, calling out the film's many diverse inspirations and her desire to make a film that her teenage nieces could enjoy as a sort of fairy tale about the choices we must make to conform, and how to know when not to. Samuel Goldwyn Films will release the fantasy/sci-fi/thriller Paradise Hills in theaters October 25, 2019, and on digital and on-demand November 1, 2019.
Listen here:
Or listen on YouTube:
Check out the Trailer:
Castle Talk Podcast Links:
Join us over on Facebook to chime in.
The show is hosted here. Get our RSS Feed. Subscribe at iTunes. Listen on Stitcher. Or watch on YouTube.
Twitter: jasondhenderson.
The Team: Hosted by Jason Henderson, editor of the Castle of Horror Anthology and Young Captain Nemo, and creator of the HarperTeen novel series Alex Van Helsing.
Enjoyed this article? Share it!