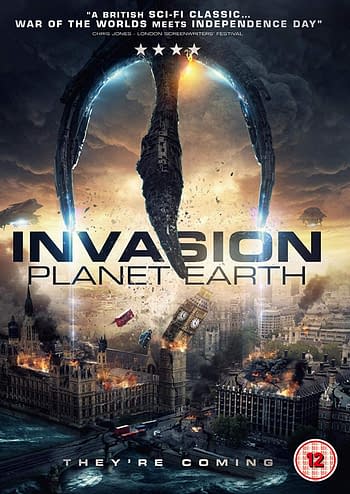 This episode we're chatting with Simon Cox, the writer, director, and producer of Invasion Planet Earth, a new film about a doctor who leads a group of patients at the clinic where he works in their journey to escape a massive alien invasion.
In the film, Simon Haycock plays Thomas Dunn, a doctor who has just learned that he and his wife are going to be parents, a bittersweet possibility for happiness amidst their grief over the loss of their daughter sometime before. But their new hope is disrupted by a weird, massive outbreak of visions experienced by the patients at Thomas' embattled mental health clinic and then by people across the world. The visions are just an opening: a "giant, alien mothership" arrives and launches an invasion of alien craft sweeping across the planet. News reports show the governments of the world reacting wildly amidst their own tensions, which cause ongoing conflict to boil over. Thomas has to take his patients on the run, but they are beset by crippling, personal visions from the aliens, whose beams can teleport humans up into the ships.
But all is not as it seems—Invasion Planet Earth has twists that call to mind episodes of The Twilight Zone and The Outer Limits. The look of the film as an SF TV texture, which luckily feels very familiar to US audiences after years of Doctor Who and Torchwood.
Haycock talks about the effort it took to make a feature film on a "micro" budget—his ode to classic sci-fi took seven years to make.
Invasion Planet Earth comes out on February 4, 2020 (VOD & Digital HD On Leading Digital Platforms & DVD).
EXTRAS INCLUDE:
The Making of Invasion Planet Earth
Deleted Scenes
Director Commentary Track with writer/director Simon Cox
Trailer
Listen here:
Listen on YouTube:
Check out the Trailer:
Castle Talk Podcast Links:
Join us over on Facebook to chime in.
The show is hosted here. Get our RSS Feed. Subscribe at iTunes. Listen on Stitcher. Or watch on YouTube.
Twitter: jasondhenderson.
The Team: Hosted by Jason Henderson, editor of the Castle of Horror Anthology and Young Captain Nemo, and creator of the HarperTeen novel series Alex Van Helsing.
Enjoyed this article? Share it!