Another bit of author's personal backstory before jumping into my chat with Chase Masterson, who played Leeta on Star Trek: Deep Space Nine–
I produce and attend several conventions during the year. I meet a lot of people both in front of and behind the scenes for series, films, and various enterprises (ha!). There have been few in the world of cons who have truly been a delight like Chase has. She is not only a wonderful actress (and superb singer, btw), but her charitable works and desire to make the world a better and more tolerable place for everyone is one of the things I admire the most about her. Check out the Pop Culture Hero Collation, a non-profit who use tv, film, and comics to teach real life heroism over bullying in all it's forms.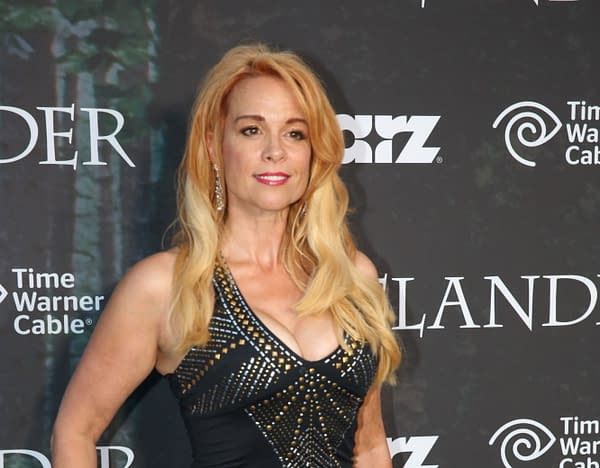 As a longtime Star Trek: Deep Space Nine fan, this has been a super surreal week of work interviews, readers. Seriously. You can kind of sort of get the impression of fulfilling a fangirl's dream when I got to speak with Nana Visitor, who played Major Kira Nerys on the third live-action Star Trek series (which you can read here), Armin Shimerman who played Ferengi bartender Quark (which you can read here), Andrew Robinson who played Cardassian tailor and spymaster Elim Garak (which you can read here), and continued with Chase.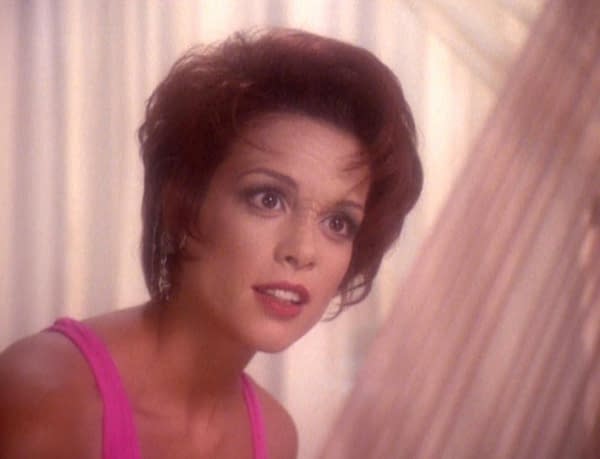 The DS9 family granted some interviews to chat about the upcoming long-gestating documentary, What We Left Behind, which will have a theatrical release on Monday May 13th thanks to Fathom Events and SHOUT! Studios, the latter holding the worldwide distribution rights for the incredible doc.
[This interview has been edited for clarity, and attempts to lessen the fangirl reactions.]
Mab: This documentary is amazing, and it was just incredible!
Chase: That's so great to hear, it's a beautiful piece of work, isn't it? I saw it at one of the LA premieres, and at the big Trek show in Birmingham England. I'm so excited to get to see it again with fans.
Mab: I know you're still very involved with conventions, and seeing so many of your DS9 co-stars, but what was it like to come back to the station for this project?
Chase: I do do a lot of conventions, I'm actually speaking with you from Alaska where I was just a guest at an event. That's the interesting thing about Star Trek, that it's so ongoing. This documentary, being titled "What We Left Behind", in so many ways, Star Trek is with us all the time. It's a transcendent show that speaks of themes that were so powerful in the 60's. There are parts of the production of Deep Space Nine that are still really relevant today. We talk about these themes, and we see each other at cons, and we're still so involved in what this show means. It's difficult to think about leaving it behind, because it's still with us.
Getting to talk to Ira [Steven Behr] about his experiences, the battles he fought with the studio to make the series one of the very first serialized shows, which was not an easy jump to make. Deep space nine demanded a lot from it's audience, that you watch every week, and networks were hesitant to do that for fear of losing ratings. It was such an incredible thing, to jump on board with these characters and their storylines, and television has never been the same since.
One thing that a lot of people don't know, or maybe missed, is back during the 5th season of DS9, Ira predicted that the show would be more popular once it was off the air. He predicted that something like streaming was coming, that people would binge, and that the show would be more potent and likely to be watched by people who would do it all at once.
Mab: One of my favorite things in the documentary is the reveal that watching the dailies, seeing the natural growth of some of the characters, made them want to include those characters more. Like Leeta.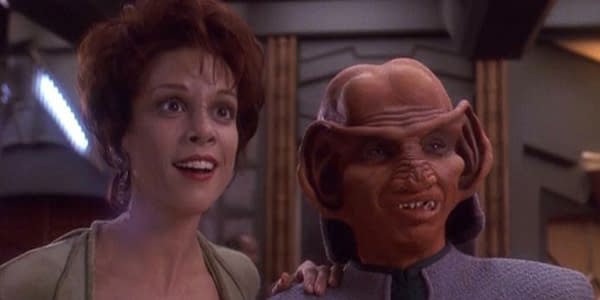 Chase: Aww, thank you. My character was only written to have 4 lines in that one episode with Doctor Bashir. I just came on to basically flirt with him and cough a little, and we didn't know if we'd ever see Leeta again. Rick Berman (executive producer) didn't usually come to set, but he came that day, and I was told it was pretty wild- "we usually don't see him down here"- and that he was scouting me out, which he apparently was. I found out my character was going to reoccur when I got called in for wardrobe, when I played one of Dax's hosts. I'm so grateful to have been on for the next 5 years with some wonderful storylines, very Star Trek storylines. Like loving the guy who was only pretty on the inside, we are way more than what we look like or present. Characters go much deeper in life and Trek.
Mab: Watching Leeta and Rom's (Max Grodénchik) relationship grow and evolve in the latter seasons was so wonderful to watch, and I've never really gotten to tell you that, how much I loved it, because we're always going full-speed at events.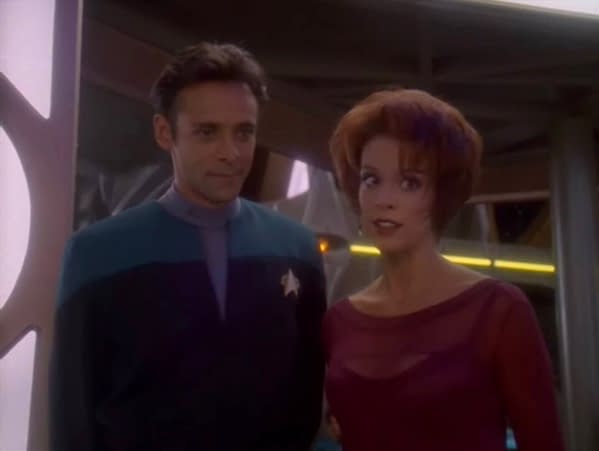 Chase: That means a lot, thank you. A lot of people have said it spoke to them about what it's like to have people who you wouldn't ordinarily predict get together. Leeta and Bashir were like the Barbie and Ken of Star Trek, tall and thin [she sings this next part, a treat!] and long and lovely…Leeta and Rom were like the Lucy and Ricky. So much more room for opposites attract, more comedy, more fun antics.
Ira said he started Leeta and Rom's relationship back during "Bar Association", and that he decided they'd get together. He wanted them to be an example of a happy couple on television, one that we don't usually see. Couples usually have some horrible thing like cheating or addiction that tears them apart to bring the drama. He wanted to show that couples can be happy and still interesting. That's rare, and unique, and I loved it.
Mab: I also wanted to touch on the wonderfully charming episode "Take Me Out to the Holosuite", the baseball episode, because you get to be a part of the team. Leeta was definitely a part of the team of Deep Space Nine, but not really a member of the crew, and it's one of the times we see her being a part of the crew also.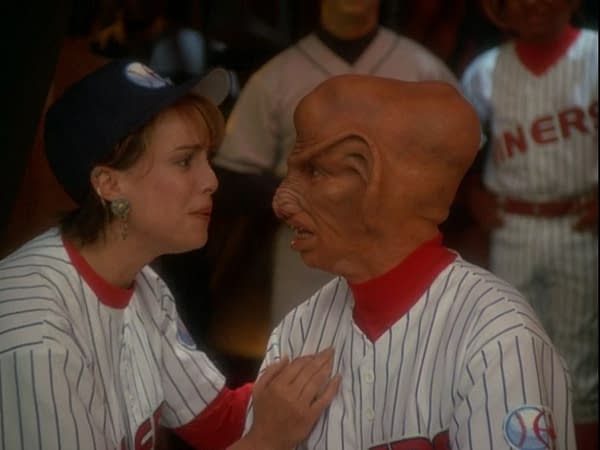 Chase: That's such a nice point, and I appreciate you saying it in that way, and it's true! It was great. Doing an episode like that is always fun for the cast. The theme of baseball, of a team, was so strong during Deep Space Nine, directly because Michael Piller was such a big fan. He had season tickets to the Dodgers, and would go faithfully. I do think, in retrospect, the episode is a tribute to Michael. Just a cool fun thing to see us play the Vulcans, just a neat idea.
Mab: What would you tell someone just coming to the show for the first time? What would you want them to know about the series, about Leeta?
Chase: Stay tuned for the social relevance. That has been the basic theme of star trek since Roddenberry created it. This show holds beautifully true to those themes. Social diversity, transcending racism, having a black captain, was so powerful and groundbreaking even in the 90's, having the show's key family being a black family. The transcendence of gender equality with Kira being the first officer, the power that Jadzia had making important choices and also being a beautiful woman. The show spoke very frankly about the cost of war and the need for peace, like when Gul Dukat's daughter Ziyal died. War costs everyone, there is no escaping that. The show reawakened the need for stands on these subjects, for people who don't have the privilege we have, that is the key, that is very Star Trek.
***
Thank you again x1000000 to Shout for organizing the interview, and to the delightful Ms. Masterson for her time.
What We Left Behind hits theaters for one night only on Monday May 13th through Fathom Events.
Enjoyed this article? Share it!