Children of the Corn is one of the more loved Stephen King novels and has a solid 1984 film adaptation available to watch. There are also a bunch of sequels many are not aware of, all not very good, really. With all of Hollywood shut down currently, it is hard to come by information about productions still, well in production. It turns out there is a remake of Children of the Corn filming right now in Australia from director Kurt Wimmer (Equilibrium, Ultraviolet) and being produced by Lucas Foster. I do not think anyone was really aware of this film existing until it was listed in a Hollywood Reporter article over the weekend and brought to light by Bloody Disgusting and Club Stephen King.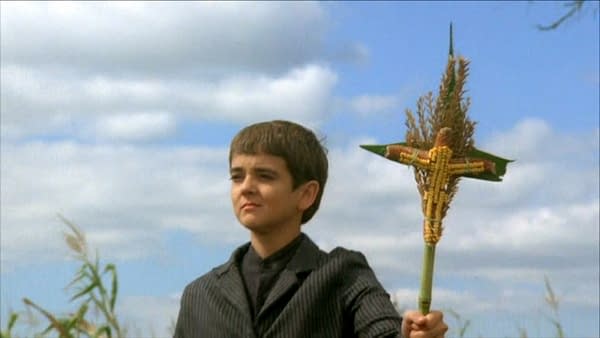 Children of the Corn Got An Exception to Film
Here is some info from The Hollywood Reporter article about how they have continued filming: "On the outskirts of Sydney, producer Lucas Foster (Ford v Ferrari) and director Kurt Wimmer have managed to quietly continue their shoot on The Children of the Corn, a remake of the 1984 horror classic, despite lockdown measures imposed across Australia on March 23. Foster secured an exemption to the general quarantine rules, which limit public gatherings to two people, by working closely with state film board Screen NSW and regional health-and-safety body Safework NSW to design the production's protocols."
"The film's outdoor locations, its local cast and crew, and its status as an independent production have meant it was not subject to studio-based furloughs and shutdowns that have hit other film shoots across the country. Screen NSW said Children of the Corn "significantly reduced its cast and crew size and is implementing health and safety protocols in line with government restrictions for workplaces … and is keeping local police informed on their operation."
How did nobody realize this was coming? Any new Stephen King adaptation is big news these days, no matter the size. This will apparently not pick up where the series left off either, with the tenth film from 2018. That's right: there have been ten Children of the Corn films—no word yet on the release date or anything else for that matter.
Enjoyed this article? Share it!