We all know that there are few working A list actors with the stunt ability (and apparently fearlessness) as Tom Cruise in the Mission: Impossible franchise. Remember in the most recent film Rogue Nation when he actually hung off the side of a plane? Yeah. That sounds like just the tip of the spy-berg.
Today during the Paramount Pictures presentation at CinemaCon, Chris McQuarrie told audience just how absolutely crazy and dedicated Cruise is to his work. There was a sizzle reel shown featuring some pretty ridiculous behind-the-scenes footage of the skydive scene we've seen teased in trailers, as well as an extended prisoner extraction/chase scene (10-minutes-plus) that is being called "legitimately heart-pounding". Expect a longer-form write up of that later.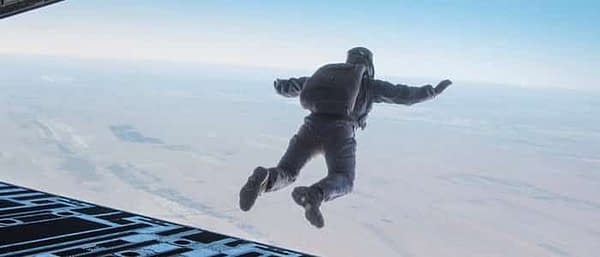 Turns out, Cruise suggested this particular scene, because he wanted to Cruise wanted to do a Halo jump from 25k-30k feet and open his shoot low. Because of obvious issues and dangers, the production built the largest wind tunnel in the world in order to practice the stunt. Raw footage was shown.
Needless to say, Cruise and Cavill did actually do the Halo jump from 35k feet.
Only having 3 minutes of daylight to shoot every day (because they shot at sunset) as well as needing to be 3 feet away from a camera or he would be out of focus with a cameraman falling backwards at 200 MPH, resulting in over 106 jumps to get 3 usable takes. These were shown during the panel.
The production also had to build a more cinematic helmet with special lights to capture the scene, and they couldn't have a spark or the O2 filled helmet would catch Tom's head on fire. So, no pressure. And- apparently the poor camera guy wearing this camera contraption on his head wasn't able to see through the camera while the wind was blowing, and had to "focus manually by instinct alone".
Some kind of spoilery things were shown, and I don't want to ruin them for you because they sound pretty damn epic. To the tune of both co-stars Simon Pegg and Rebecca Ferguson commenting that they thought Cruise was going to die at one point during filming.
Newcomer to the MI franchise Henry Cavill (seriously though, his mustache in the film better be worth it, since he contractually couldn't shave it off, and that's how we got the Justice League chin issues) praised Cruise's skills on and off camera.
"I'm really excited to see this movie so I can see exactly how close to death I came on numerous occasions. The skills of this man [Tom Cruise] know no limit." In particular – bringing up a helicopter piloting scene that was very Top Gun, which Cavill wanted to exclaim "I'll always be your wingman."
Mission: Impossible Fallout opens on July 27th 2018.
Enjoyed this article? Share it!