"Connected": Family Bonding Road Trip Meets "Maximum Overdrive" [TRAILER]
Sony's latest animated adventure Connected starts as a family road trip to see the daughter off to college. Things go awry when technology goes rogue a la Stephen King's Maximum Overdrive. The family have to flee the machines. If you are familiar with Spider-Man: Into the Spider-verse and The Lego films, then you are aware of what Phil Lord and Christopher Miller bring to the table.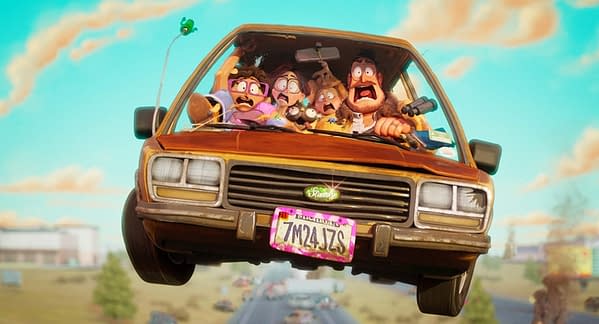 Directed by Michael Rianda and written by Jeff Rowe, the film follows the Mitchell family. Rick (Danny McBride) longs for the days when the family spent time together and enjoyed each other's company. He loses himself in a video of his young daughter Katie (Abbi Jacobson) at the park. Later, we find her grown up and ready to go to college.
Fast forward to today. Katie wraps herself in her smartphone and laptop. The rest of the family also buried their heads on their phones and tablets. After accidentally breaking Katie's laptop in a moment of frustration, Rick decides to cancel her plane ticket to college and instead gets the family to spend a few days on a road trip to reconnect. As the family rediscovers their love for nature and documents their adventure, technology starts to go haywire. Robots and any connected smart device from vending machines, appliances, toilets, etc. turn on their users in a tech uprising. It's up to the Mitchells to get to the bottom of the uprising and save the world.
Synopsis
"When Katie Mitchell, a creative outsider, is accepted into the film school of her dreams. Her plans to meet 'her people' at college are upended when her nature-loving dad Rick determines the whole family should drive Katie to school together and bond as a family one last time. Katie and Rick are joined by the rest of the family, including Katie's wildly positive mom Linda, her quirky little brother Aaron, and the family's pet pug Monchi for the ultimate family road trip. Suddenly, the Mitchells' plans are interrupted by a tech uprising: all around the world, the electronic devices people love – from phones, to appliances, to an innovative new line of personal robots – decide it is time to take over. With the help of two friendly malfunctioning robots, the Mitchells will have to get past their problems and work together to save each other and the world."
The film also stars Olivia Colman, Maya Rudolph, Eric André, and Rianda.
Connected comes to theaters on September 20th. Check out the trailer below.