The idea of movies doing reshoots has gone from something that every production does to the sort of thing that makes fans nervous. As industry professionals have pointed out time and time again nearly every movie does some level of reshoots. It's how long and how much they are reshooting that you can start to get a little nervous. In fact, a movie that does no reshoots, not even pickups like The New Mutants, is far rarer. In this case, the issue isn't that this movie is doing reshoots but more the timing in comparison to the release date. According to Deadline, the cast and crew of Dune are set to go out and do some reshoots for the movie in mid-August. The news was confirmed by Oscar Isaac during a recent interview.
"We're going to do some additional shooting in mid-August… they're saying in Budapest in Hungary," said Isaac. "I saw some things cut together and it just looks amazing. Denis [Villeneuve] is a real artist and it will be exciting to see it come together. It's kind of wild that we're doing some additional shooting a few months before it's supposed to come out, but that happened with Star Wars as well."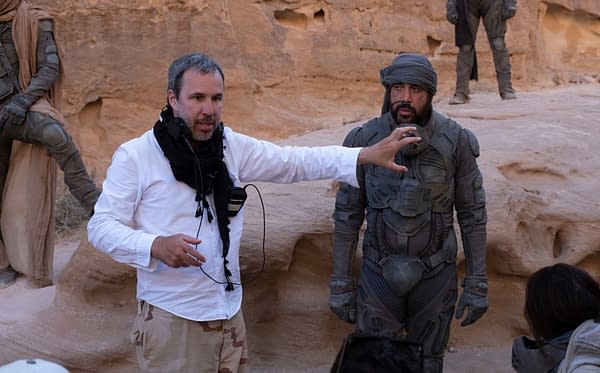 Mid-August is rather late for reshoots for a movie that is set to come out in December of this year. However, the ongoing COVID-19 pandemic has impacted all levels of filmmaking. While no specific reasons are given the delays in post-production and editing could have slowed down figuring just how long they would need to spend on reshoots. The pandemic has also shut down productions so mid-August is likely the first time they were able to travel the various cast members to Europe to do the reshoots. At the time, they are saying that these reshoots and post-production work aren't going to impact the release date but that remains to be seen. This is a movie that wrapped in July of last year but it's also a massive production that likely needs every second it can get to finish post-production. It's going to be interesting to see if this one makes that winter release date.
Dune, directed by Denis Villeneuve and starring Timothée Chalamet, Oscar Issac, Rebecca Ferguson, Zendaya, Jason Momoa, Javier Bardem, Josh Brolin, Stellen Skarsgard, Dave Bautista, Sharon Duncan-Brewster, and Charlotte Rampling is set to open in theaters on December 18th.
Enjoyed this article? Share it!