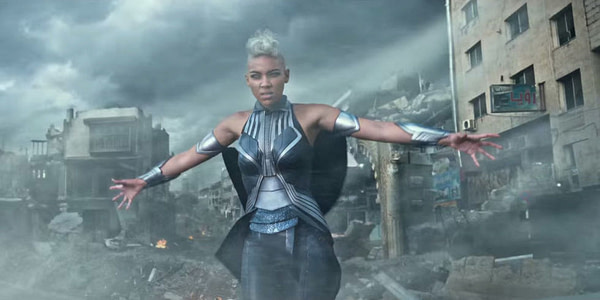 X-Men Apocalypse may not have been a critical darling like Logan or a surprise smash hit like Deadpool, but Alexendra Shipp, who played Storm in the film, is willing to give the X-Men cinematic universe another shot. In an interview with ScreenRant, Shipp shockingly revealed that she would be willing to accept money in exchange for providing her services as an actor for future X-Men films.
"When you sign on for a franchise, you definitely sign on for that," Shipp said of an X-Men return, noting that the decision was ultimately up to Fox. "But it's all whatever Fox wants, Fox gets!"
As to what Shipp would hope for in future Storm character developments, Shipp laid out a plan that would probably take more than a single movie, "I'd really love to see Storm coming into her matriarch form. In the last X-Men, she was very young and she had a different viewpoint. I'd love to see her take on more of a substantial role and really see her come into her own. I want to show how Halle got there. And to do that, I think we just need to show that evolution. And I'm all about a good character arc."
But look, this isn't just about Shipp getting more work in the main X-Men films. She'd also be willing to star in a Deadpool sequel as well.
"You know the brand's going to find a way to make it all merge into one some day," Shipp said of the possibility of working with Brianna Hildebrand, who played Negasonic Teenage Warhead in Deadpool and also stars alongside Shipp in Tragedy Girls, a comedy horror film which debuted at SXSW last weekend. "That would be really awesome. That'd be really fun to fight each other or fight a villain of some sort together. But who knows."
Basically, give Alexandra Shipp more work, Fox!