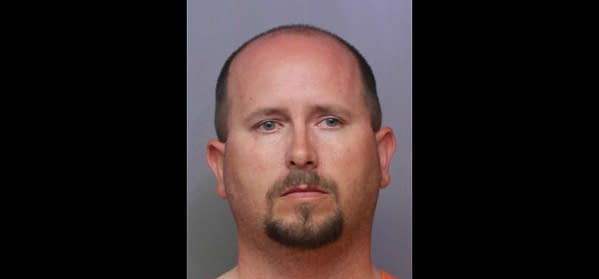 Polk County Police arrested Walt Disney World bus driver Kevin Van Orman last week after he allegedly tried to lure a 15-year-old girl for sex using the app Whisper. The 15-year-old in question was actually one of two undercover detectives involved in the sting.
"I'm only 15 tho…. Just so u know," the detective wrote on the app. "That's ok," Van Orman replied. "We can cuddle watch tv and whatever else you would like I can even massage you."
Police say Van Orman, 35, had suggested he meet up with the girl during her family's Walt Disney World vacation. He was later arrested at his home in Bartow, Florida on March 25th. According to the police report, Van Orman had also solicited another undercover detective posing as a 14-year-old.
Following his arrest, Van Orman told detectives:
"I think I'm addicted to sex […] for some reason tonight I was thinking with the wrong head. […] Some of the 16 years old I'm attracted to. I see them every day. The worst ones are the Brazilians.

[…] I did something completely [expletive] stupid that I never should have done in the first place. I came to meet a 15-year-old girl. One thing I never should have [expletive] done. I lost my wife, my house, my kids, my truck."
Van Orman was charged with lewd battery, using a computer to solicit a child, and traveling to meet after using a computer to lure a child. He is currently on unpaid leave from the Walt Disney World Resort and was released on bail.
Enjoyed this article? Share it!