Truly, no Disney animated property is safe from the remake/reboot/reimagining machine at the House of Mouse, and The Hunchback of Notre Dame the latest title to be getting the live-action treatment.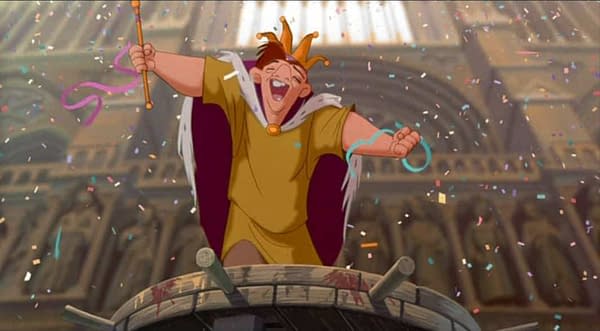 This new project, titled Hunchback, will be a direct live-action musical remake of the 1996 cartoon classic, along with additional inspiration from the source novel by Sir Victor Hugo.
Deadline reports that M. Butterfly playwright David Henry Hwang has been brought on by Disney to pen the script for the project.
The outlet goes on to say that long-time Disney tunesman Alan Menken will write the music, along with Stephen Schwartz. Mandeville, which produced the live-action Beauty and the Beast recent Disney adaptation, will produce, along with Josh Gad.
It's worth noting that Gad has been mentioned to possibly be playing the lead character of Quasimodo in Hunchback, but no set word on that yet.
As an aside, Hunchback of Notre Dame has some of this writer's favorite pieces of Disney music, so hopefully those won't be forgotten in a new presentation of the story.
We'll let you know what else we hear about this project, like whether or not it'll be a theatrically released film or something possibly for Disney+.
Enjoyed this article? Share it!