There's Something Wrong With The Children: Wainwright On Horror
Alisha Wainwright (Raising Dion) talks to Bleeding Cool about her latest horror film in Blumhouse's There's Something Wrong with the Children.
---
Alisha Wainwright is used to playing characters in greater control of their destiny as indicated on the shows like Raising Dion and Shadowhunters. That changes in Paramount's There's Something Wrong With The Children in her role as Margaret in the horror film. The film follows a family who takes a weekend trip with longtime friends and their two young children, but they suspect something supernatural when the kids behave strangely after disappearing into the woods overnight. Wainwright spoke to Bleeding Cool about working with director Roxanne Benjamin (Pretty Little Liars: Original Sin, One of Us is Lying), her co-stars, and adjusting to horror.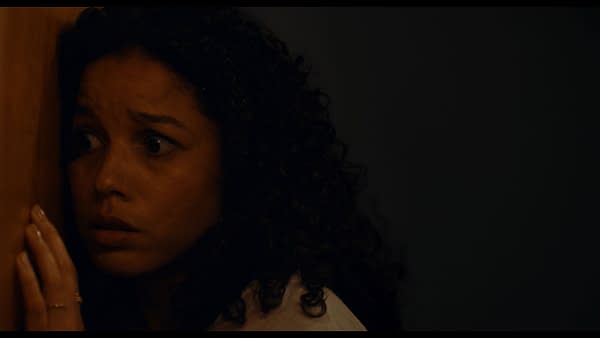 The Build-Up in There's Something Wrong With The Children
Bleeding Cool: What intrigued you about There's Something Wrong With The Children?
Wainwright: Great question. When I read the script, the fun relationships my character had with the other adults in the film [grabbed my attention]. It was easygoing and comical, and it had a lot of like humor and lightness. Then quickly it turned and started to be a little bit more stressful, bordering on psychological thriller, and by the end of the movie, it becomes a straight-up horror movie. I liked it because it took you on a journey.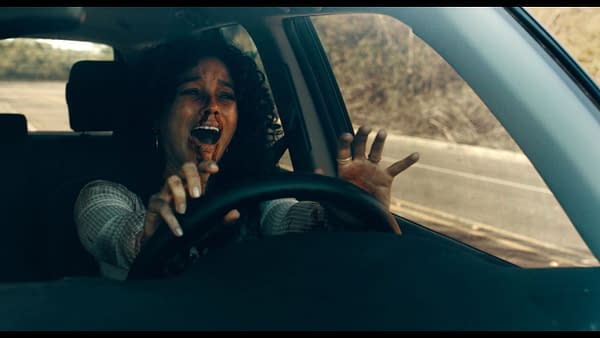 How do you break down your chemistry with your co-stars in the film?
It was supportive chemistry. The characters seem like they have a perfect life together and you realize towards the end of the movie that it's [my character] Margaret who's made a lot of personal sacrifices for them to have this sort of fairy tale feeling. We supported each other in the choices that we made for our characters and in general, all of the cast members were incredibly supportive. You could make bold choices and know that your scene partners were there to go through it with you.
How do you describe the set Roxanne ran?
Roxanne ran a smooth ship. The budget was on the lower side, so you got to get a little scrappy. She was able to balance the stress of running a film set while also being fun and amenable to the cast and crew. She's also very driven as you can see when she's laser-focused on something, but she's just also friendly and personable. I enjoyed myself on set.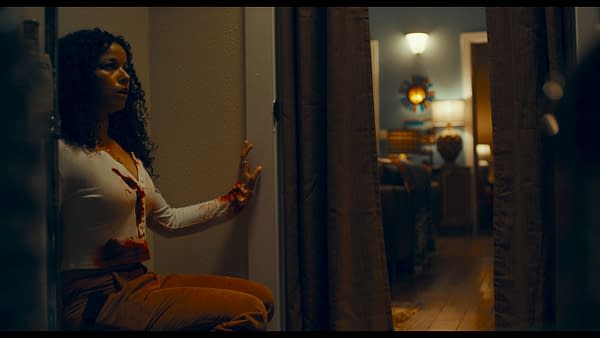 Can you break down the stunt work? Was it something on par with just what you're usually used to?
I've played a lot of characters who are good at what they do in terms of stunts. So that was different because, in this film, my character's not good at fighting or evading. It was a lot of falls and things like that. I don't typically like to do those sorts of stunts, because I couldn't sell it as well as my incredible stunt double. There's a really clear example when my character is running down some stairs, gets tripped, bangs her head hard, and blacks out. You catch me initiating that, but my stunt double-sold that and was able to make it look real. I do enjoy stunts when my character can play like someone a little more adept at it.
How do you feel adjusting to horror?
I never look at genres so much as I look at tone like I'm asking "What is the tone of something?" Then you play the tone as authentically as possible so it doesn't feel that different. Also, I will say horror compared to sci-fi is not that far. You still have to suspend the level of disbelief. Horror is in my wheelhouse.
Written by T.J. Cimfel and Dave White, Paramount & Blumhouse's There's Something Wrong With The Children, which also stars Zach Gilford, Amanda Crew, and Carlos Santos comes to digital on and on-demand on January 17th.