Disney's Raya and the Last Dragon Animated Film Set for Thanksgiving 2020
At their D23 Expo presentation today, Walt Disney Studios just announced their next animated movie: Raya and the Last Dragon, starring the voices of Cassie Steel and Awkwafina. Set for release in November 2020, screenwriter Adele Lim described the film, inspired by the culture of Southeast Asia, as like a combination of Disney animated classics and old school Hong Kong flicks, which sounds pretty damn awesome. It takes place in a world called Kumantra, which was created by dragons, but as the title implies, now there's only one left. Steel voices the titular Raya while Awkwafina voices the titular dragon.
Wait, what the hell does any of that have to do with Leroy Green?! Who is playing Sho'nuff?! Is Eddie Arkadian producing this thing?
While we wait for those important answers, some animated concept art was tweeted by Disney below:
So don't make any plans for next November, okay?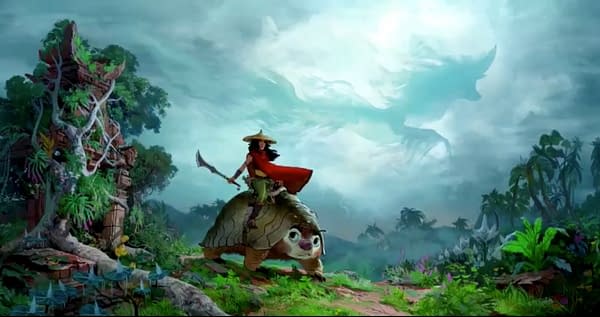 For breaking updates from D23, follow Bleeding Cool's liveblog, which can be viewed here. Or just keep refreshing the page until we break them out into individual articles. You win by getting the news as quickly as possible, and we win from all those sweet, sweet pageviews.