Dominican Newspaper Understandably Uses Photo Of Alec Baldwin As Donald Trump On SNL Instead Of Actual Trump
Dominican Republic newspaper El Nacional was all the rage on social media Saturday after they accidentally published a photo of Alec Baldwin portraying Donald Trump on Saturday Night Live instead of a photo of the actual president himself. The story, about Trump's position on Israeli settlements inhibiting peace efforts, placed Baldwin's satirical version of The Donald, which Trump has been vocally offended by for months, next to an actual photo of Israeli Prime Minister Benjamin Netanyahu. Baldwin appeared on Saturday Night Live as the host Saturday night, and portrayed Trump in a sketch where his vow to see opponents of his travel ban IN COURT plays out on an episode of The People's Court.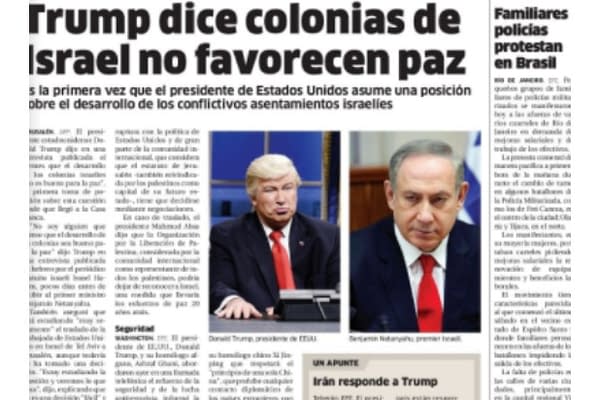 One might think the faux pas would be embarrassing for the newspaper, but they seemingly doubled down, issuing a retraction, but placing the photo of Baldwin right next to a photo of Trump looking incredibly similar, illustrating that it's an honest mistake anyone could have made under the circumstances.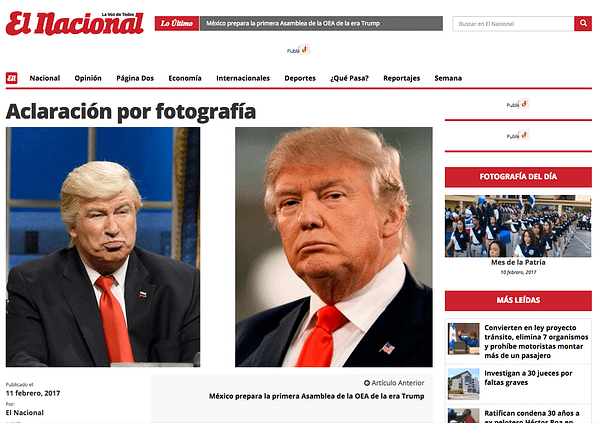 Wait… you're telling us those are two different people?