One of the best parts of Dragon Con is seeing the multiple fandoms coming together in costume. An example of this from 2018's annual Atlanta, Georgia multi-day geek Mardi Gras is a mash up of Star Wars and Star Trek that makes perfect sense.
Cosplayers Galacticat and her beau CGC Creative came up with this great pairing of a Hutt Slayer Leia and Obi Wan from Star Wars, but as William Riker and Seven of Nine from Star Trek.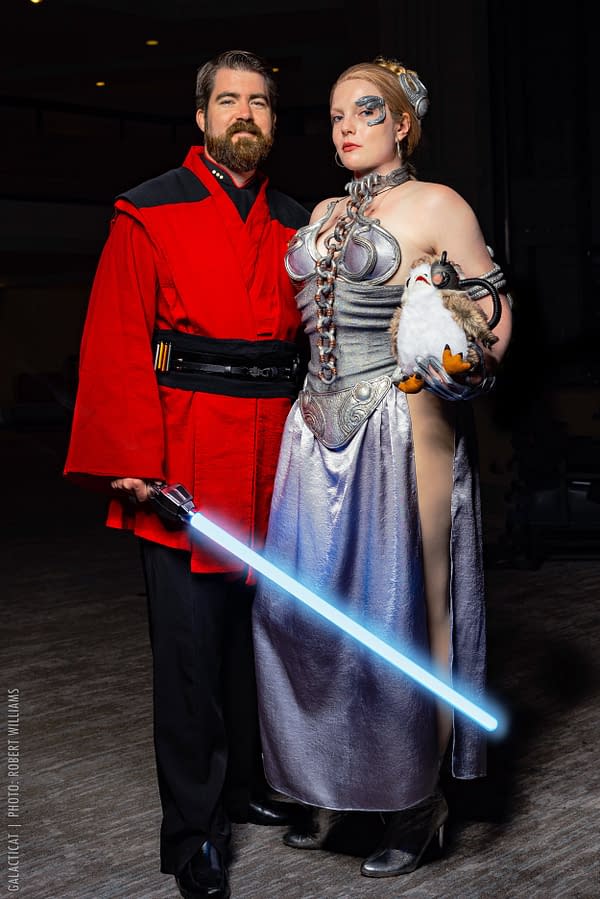 Galacticat writes:
Chris has costumed as Riker for several years. A couple years ago, I made him an Obi-Wan costume, and said that he just looked like Riker in Jedi robes. This turned into us joking about doing a mashup between the two, and somehow we decided to actually go for it. For myself, I decided to do a mashup of Seven of Nine and Slave Leia. The idea was, more or less, what possible roles would these Trek characters have in Star Wars? We tried to put some real thought into these and I'm very happy with how they turned out. We debuted the costumes at DragonCon 2017 and brought them back this year, with a new addition: Borg Porg.
The photo is by photographer Robert Williams, and Galacticat did list out her resources for the look if you're interested:
Borg Facial Prosthetics: HobbyFX.co.uk
Borg Hand: Mystique's World of Cosplay
Bikini Kit: Leia's Trooper
Jedi Belt: Saberbelt.com
With everything else being created by the couple.
Thanks again Galacticat and CGC Creative for sharing your brilliant mashup!
Enjoyed this article? Share it!