Dumbo is Tim Burton's Best Movie Since Big Fish (Review)
Tim Burton's big movie for 2003 was Big Fish, a story of family and loss and showmanship and dealing with the magical hand that life has given you if you can but see it. Oh and it has Danny DeVito as Amos Calloway of Calloway Circus. With Dumbo, Tim Burton returns to the circus with a film that could have been called Big Ears in the way follows up on his movie from 16 years ago.
[rwp_box id="0"]
[rwp_reviewer_rating_stars id="0"]
And it's through the circus that we see this world, the carriages of the train rocketing by with faded glimpses of old glory, still bringing something special to small towns across a USA between the wars. This could be a parallel to Disney, and this movie, reviving a faded memory of a movie first released as World War II raged, something, anything, to distract from war and from poverty – of ideas as much as anything else.
So Burton taking Disney's original cartoon movie, ripping out the songs, and handing lines from vultures to the carnival folk instead, with Danny DeVito as ringmaster again, as one of the non-existent Medici brothers, and the mercantile shyster who seizes on whatever he can, selling whatever he can, at whatever the cost to himself, to keep his dream alive.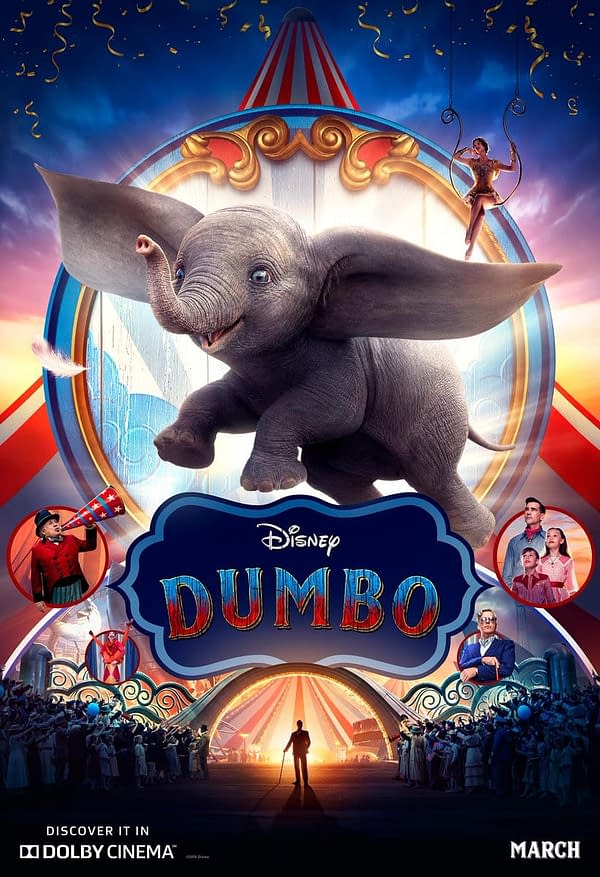 With Dumbo nothing more than dumb luck, initially rejected, then seized upon – finding himself a big fish in a small pond and tempted by Michael Burton as a much bigger fish to join him in an ocean.
To that degree, Dumbo is a means to an end for the story, with those around him, children who have lost a mother just as Dumbo loses his, and a father who has lost a wife – and an arm. All have lost, Dumbo represents gain – financially and for their soul.
It's here that the film has it's truly extraordinary achievement, realizing a cartoon elephant as a believable part of this world. His big eyes are more ludicrous than his big ears, and when he flies, you feel the weight, the wind, the impact on reality he makes as you are carried along as much as Eva Green is on his back. Dumbo flies right over any uncanny valley, and you simply cannot see the joins, not even at the Odeon Lux presentation I saw it at with my kids this weekend, in Leicester Square.
To that degree, the kids, are perfunctory. Frankly, so is Colin Farrell, Eva Green has a spark of the Deitrich, and DeVito and Keaton spar as the larger and life caricatures they have created for themselves.
But Tim Burton does what he often does better than anyone, giving life and lives to the ancillary characters. Deobia Oparei of Sex Education and Game Of Thrones as the strongman given accountancy and PR tasks with stoicism is a joy, as is Sharon Rooney off of Zapped and No Offence, as the Miss Atlantis the Mermaid. If her eyes are real, then Dumbo's can be too.
And it's these details that carry the movie along with real danger and thrills that I didn't expect, and an observation of detail that really makes you care. It's all an illusion of course, but that's what the show is. And with Dumbo, Burton is back as the ringmaster behind the curtain…
Dumbo is released in the USA and the UK on March 28th 2019.