Ed Brubaker & Sean Phillips' Pulp to be a Movie at Legendary Studios
Tom McCarthy is working with Ed Brubaker on a movie adaptation of Pulp created by Brubaker and Sean Phillips for Legendary Studios.
---
Tom McCarthy, the co-writer and director of the Spotlight movie, is to work with Ed Brubaker on a movie adaptation of Pulp, the graphic novel created by Brubaker, Sean Phillips, and Jacob Phillips and published by Image Comics.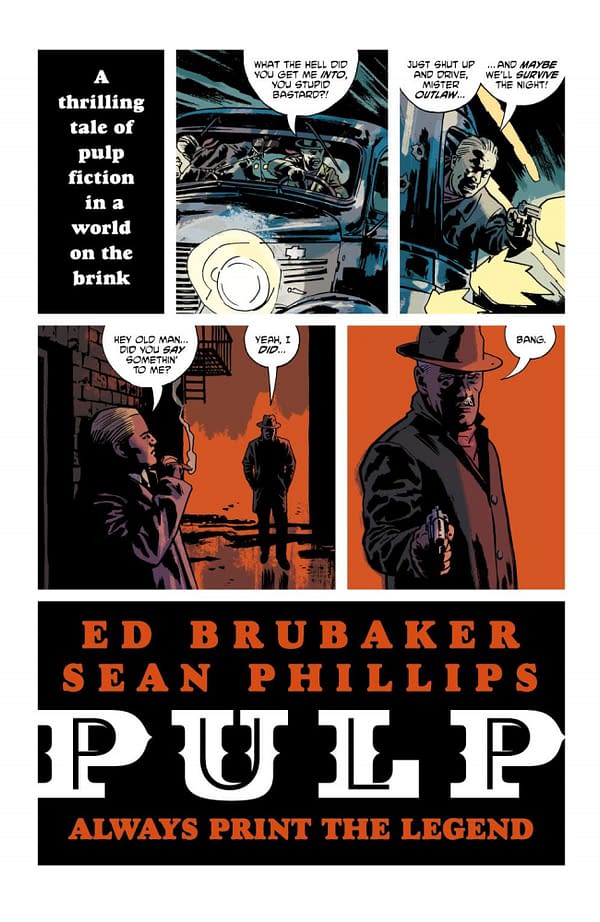 Above The Line reports that "McCarthy and Brubaker have commenced writing, and while the project isn't set up anywhere just yet, the duo's first stop is expected to be Legendary — though a source indicates that negotiations on that front have yet to begin, as it remains early days."
However, Bleeding Cool understands through our own sources that Pulp is indeed set up at Legendary Studios.
A gorgeous original graphic novel from the best-selling creators of KILL OR BE KILLED, MY HEROES HAVE ALWAYS BEEN JUNKIES, and CRIMINAL.
Max Winters, a pulp writer in 1930s New York, finds himself drawn into a story not unlike the tales he churns out at 5 cents a word – tales of a wild west outlaw dispensing justice with a six-gun. But will Max be able to do the same, when pursued by bank robbers, Nazi spies, and enemies from his past? One part thriller, one part meditation on a life of violence, PULP is unlike anything the award-winning team of BRUBAKER and PHILLIPS have ever done. A celebration of pulp fiction, set in a world on the brink. And another must-have hardback from one of comics most-acclaimed teams.
Image Comics published Pulp in 2020, part of an exclusive deal that Image Comics has signed with Brubaker and Phillips to publish several graphic novels, including the Reckless series.
As well as an extensive career in comics, creating and co-creating the Winter Soldier, Lowlife, Sleeper, Criminal, Fatale, Kill Or Be Killed, Too Old To Die Young, Reckless, Scene Of The Crime, Gotham Central, Deadenders, and more, often with Sean Phillips, Ed Brubaker is also a writer on Westworld and the upcoming Batman: Caped Crusader TV series. As well as a screenwriter, Todd McCarthy created the ABC TV series Alaska Daily and acted as the reporter Scott Templeton in Season 5 of The Wire.