So Marvel Comics has an Eternals movie coming out this year. And while we haven't seen much sign of this in the monthly offers from MArvel Comics -unless this is where Empyre is heading – we do see signs in the collections, the big books, being planned for the year, taking both Jack Kirby's original work and more recent takes on the concept from the likes of Neil Gaiman. Here's what's coming and when…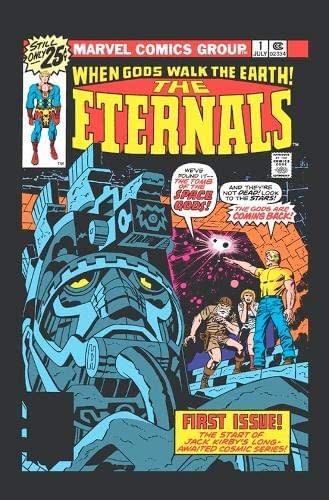 Eternals by Jack Kirby: The Complete Collection Paperback – July 7, 2020
Imagine a race of immortal beings possessed with seemingly limitless superhuman abilities. Once worshipped as gods, this fantastic group left Earth to explore the stars after warring with the Greek, Roman and Norse pantheons for supremacy over humankind. They are the Eternals, and they are just one part of a cosmic mythology. Their opposites – the Deviants – also secretly populate Earth, while the towering cosmic entities that created both – the Celestials – are fated to arrive and judge our planet. This is but the beginning of an epic cosmology of gods and men that sprang forth from the limitless imagination of Jack "King" Kirby, the co-creator of Captain America, the X-Men, the Avengers and more. Now, Kirby's ETERNALS epic is collected, complete, in this single volume. COLLECTING: THE ETERNALS (1976) 1-19 & ANNUAL (1977) 1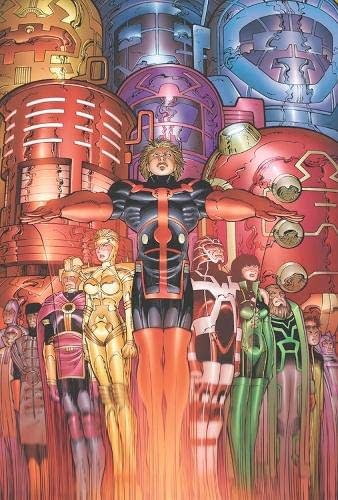 Eternals by Neil Gaiman & John Romita Jr. Hardcover – July 28, 2020
In 1976, Jack Kirby created the immortal race called the Eternals – an ahead-of-its-time exploration of Kirby's ceaseless curiosity about man's origins and mythology. Decades later, superstar creators Neil Gaiman and John Romita Jr. have boldly and lovingly reinvigorated the Eternals, crafting a fresh and crackling yarn full of mystery, suspense and majestic power! Against the backdrop of a superhuman Civil War, the Eternals are awakening one by one from a strange, waking dream – suddenly coming to terms with the fact that they are far more than the normal people they have thought themselves to be. But there is little time to commiserate about such things, because a life-and-death struggle looms – one that will span both time and space! Experience the wonder as the Eternals are re-established as a vital part of the Marvel Universe! COLLECTING: ETERNALS (2006) 1-7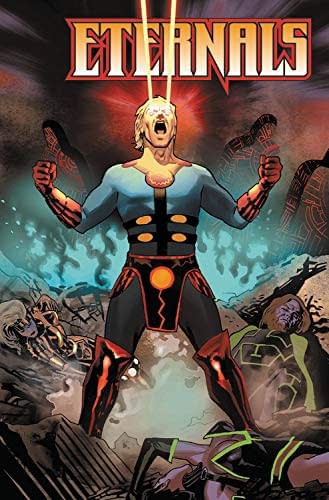 Eternals: To Defy the Apocalypse Paperback – August 18, 2020
by Daniel Acuna, Eric Nguyen, Pascal Alixe, Charles Knauf, Daniel Knauf, Fred Van Lente
The gods walk the Earth! In ancient times, the cosmic giants called the Celestials came to Earth and created a race of powerful immortal beings: the Eternals! For a time, primitive man worshiped them as gods, but eventually they disappeared. Now, the Eternals have returned – and so have the Celestials! A massive golden figure towers over San Francisco, standing in silent judgment…but does he portend the end of the world? As the Eternals discover the nature of the threat heading toward Earth, Ikaris makes a huge move, and schisms in the Eternal community explode! Pacts are broken, lines are drawn and Eternal blood will flow – but can the fractured family pull together in time to save the planet from the Horde? Guest-starring the X-Men! COLLECTING: ETERNALS (2008) 1-9, ETERNALS ANNUAL (2008) 1
Eternals: Sersi & the Avengers Paperback – August 25, 2020
by Al Milgrom, Paul Ryan, Steve Epting, Jim Cheung, Jack Kirby, Roger Stern, John Byrne, Bob Harras
Get to know the sorceress Sersi — the most beguiling of all the Eternals! Discover this immortal adventurer's truly legendary history, as only Jack Kirby himself could present it! Then, socialite Sersi throws the best parties — even the Avengers show up! But when some of Sersi's fellow Eternals crash the event, they end up facing the mayhem of Maelstrom! Sersi and the Avengers' paths cross again when the Eternals' home of Olympia vanishes — and answers lie in the Negative Zone! Sersi soon joins Earth's Mightiest Heroes, where she must help save the universe from Nebula's machinations! But as the mysterious Gatherers plot against the team, will Sersi find true love with the Black Knight — or only heartbreak? COLLECTING: ETERNALS (1976) 4; AVENGERS (1963) 246-248, 308-310, 314-315, 360 (A Story), 361, 375 (A Story); BLACK KNIGHT: EXODUS (1996) 1
And this book looks rather opportune as well.
Marvel Myths and Legends: Tales of Mystic Origins, Epic Wonders, Heroic Deeds Hardcover – October 6, 2020 by James Hill
Explore the magical myths and legends of the magnificent Marvel Universe.

They look down upon the Earth from worlds beyond the stars, watching, waiting, judging… But who or what are they, these strange, all-powerful beings and entities? And how did they come to be?

Travel deep into the Marvel Universe and encounter the Celestials, and their creations the Eternals and the Deviants… Investigate the myths of Thor and the gods of Asgard; the origins of Thanos and the Titans; the cosmology of Dr. Strange; the birth of the Kree Supreme Intelligence; the dawn of the shapeshifting Skrulls; the rise of the malevolent symbiotic god, Knull…

Discover the origins and wonders of the Marvel Universe itself, as well as the stories of some of Earth's most seismic events, such as the extinction of the dinosaurs, the great flood, and the Trojan War…

These mysteries-and many more-are spectacularly revealed in Marvel Myths and Legends.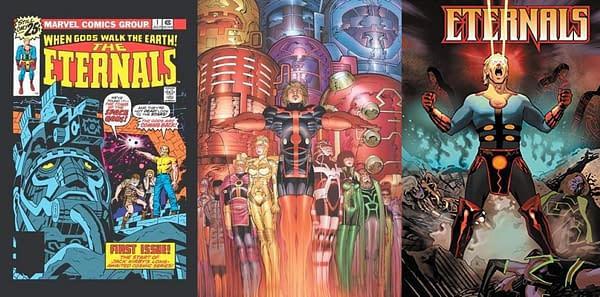 Enjoyed this article? Share it!