Ezra Miller's Future As The Flash Is Still TBD [But It's Looking Up]
Ezra Miller's future as The Flash at DC Studios is still up the air after the actors legal troubles, but comments from Peter Safran sound promising.
---
The fate of the four DC movies coming out this year isn't much clearer than before this announcement. Or at least, it isn't regarding Ezra Miller and The Flash. This film has had a difficult time making it to the big screen if we're being diplomatic about and it didn't get any better when Miller started to get into legal trouble. Things started to get fishy for Miller in 2020 but really got bad last year to the point that multiple areas of law enforcement were involved. Miller would eventually go on to apologize for their actions, but it has been unclear whether or not the public was going to accept that apology or if Miller was going to have a future at DC Studios. If you thought that today's announcements would bring some clarity regarding Miller, they really didn't, but comments from The Hollywood Reporter from Peter Safran sound pretty positive, all things considered.
"Ezra is completely committed to their recovery," said Safran. "We are fully supportive of that journey they are on right now. When the time is right, when they are ready to have that discussion, we will all figure out what the best path forward. But right now, they are completely focused on their recovery. And in our conversation with them, in the last couple of months, it feels like they are making enormous progress."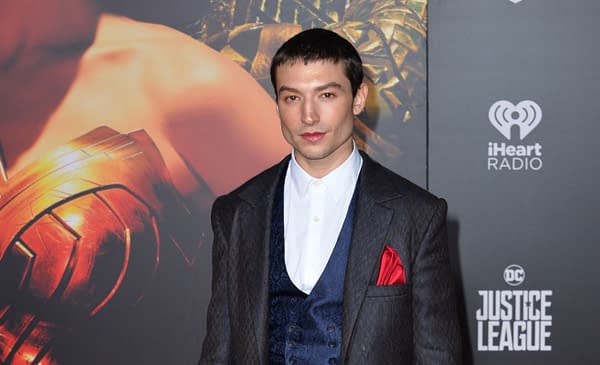 Everyone loves a redemption story, but the truth of the matter is that we don't know right now whether or not Miller's legal problems will impact the box office of The Flash when it comes out later this year. People have been hyping this movie for months now, and even amid everything new that is coming out today, Gunn called The Flash "probably one of the greatest superhero movies ever made." The movie could be fantastic, but if the behind-the-scenes issues are prevalent enough to impact things, it won't matter. Some people cited all of the behind-the-scenes chaos as a reason Solo: A Star Wars Story underperformed, which was normal Hollywood idiocy. So we'll have to see.
The Flash And Its Long Road To The Big Screen
DC and Warner Bros. have had some somewhat legendary projects when it comes to hanging out in development hell, but The Flash might be one of the worst and one of the ones with the highest profile. The Flash once had a tentative release date of 2018, and Miller was cast as Barry Allen back in October 2014. However, since then, the project has had many ups and downs, including four different directors and several page-one rewrites of the script. Just when it looked like things for this project were finally going to get off of the ground, when they had all of the confirmed cast members, and everything was shot did things really begin to go off the rails. Miller's crisis really kicked in during 2022, but they did have an incident with a fan in a bar in April 2020 before filming had even begun on The Flash. There has been a lot of controversy surrounding this movie and whether or not it should be released at all.
That controversy got even louder when Warner Bros. decided to cancel Batgirl for tax benefits. People could not believe that of those two DC projects, Batgirl was the one that was getting canceled. Back in March 2022, the film got delayed to June 23, 2023, and it sat there until it was moved up to June 16, 2023. Andy Muschietti is directing, with Miller, Ben Affleck, Michael Keaton, Ron Livingston, Kiersey Clemons, Sasha Calle, Ian Loh, Saoirse-Monica Jackson, and Rudy Mancuso confirmed to be in the cast.