Two New Fantastic Four Posters Drop From Mondo Tomorrow
Mondo will be doing their second Fantastic Four poster drop tomorrow. Two new posters will be available for purchase, the first being one of the most iconic pieces of comic art ever produced, the cover to FF#1 by Jack Kirby. This version of the cover is reproduced by Jon Smith and screen printed to become one of the best looking versions ever. The edition size is 225, and it will cost $50. Next is a Thing poster by Fantastic Four Grand Design artist Ed Piskor. I love how it looks like the poster can hardly contain him. This one is limited to 250 and will run you $60. Both Fantastic Four poster will show up on Mondo's The Drop site at Noon EST Thursday. Check them both out below.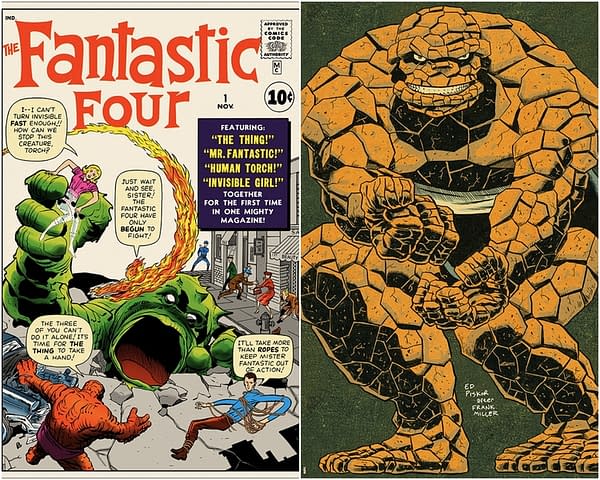 Mondo Bringing Us Fantastic Four Goodness
"The history of Marvel Comics technically begins with the introduction of Namor the Sub-Mariner in 1939 and Captain America the following year. But the rise of the company from a scrappy publisher of romance, war, and sci-fi comics to one of the biggest entertainment brands ever really began in 1961 with Stan Lee and Jack Kirby's FANTASTIC FOUR, and the revitalization of the entire comics industry that followed. This week we're honored to bring you two new posters featuring the Fantastic Four – a beautiful, screen-printed reproduction of Fantastic Four #1 by legendary artist, Jack "King" Kirby, and the variant cover for last year's FANTASTIC FOUR: GRAND DESIGN #1 by one of the best cartoonists working today, Ed Piskor.
It'll be clobberin' time tomorrow when both posters will be available via The Drop."
Be sure to be ready when this drop happens. The last FF drop sold out instantly when it was released a few weeks ago.