Fireside Chat With Andy Serkis: 'War For The Planet Of The Apes' And More
We were lucky enough to have the privilege to sit down with Andy Serkis during San Diego Comic Con this year. We talked about several things, but mostly about the absolutely incredible revamping of the Planet of the Apes series. Andy loves what he does, and War for the Planet of the Apes is a testament to the performance and technology marriage.
The third installment in the modern Apes films, War for the Planet of the Apes, was again a visual feat and emotional rollercoaster for lovers of the main character Caesar, played by Serkis. We've journeyed with the incredibly detailed computer generated character since 2011, when Dawn of the Planet of the Apes released to surprise rave reviews.
Our interview took place at the FOX booth high above the exhibitor hall at SDCC, and I was a little in awe of the surroundings — and Andy himself, who was warm and patient and wonderful.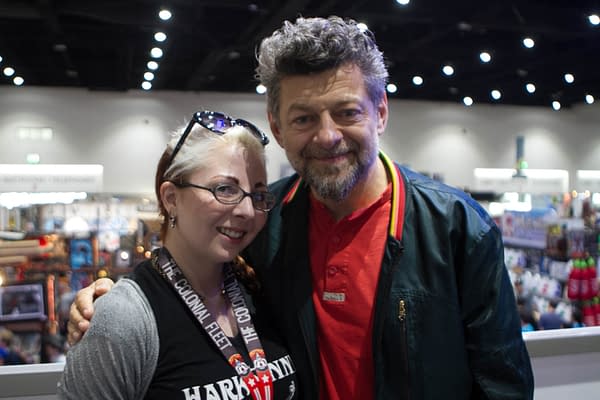 Bleeding Cool: Well hello, Mr. Serkis.
Andy Serkis: Hello there, so nice to meet you.
BC: How many times have you been to Comic Con now? What is the energy like this time for you compared to previous visits?
Andy: I think this is my sixth time. It's been phenomenal this time. Every year, it seems to get greater and greater — there's just so many fabulous things going on this year.
BC: I apologize for this, but I need to shake my fist at you, because you made me cry like a baby at the end of War for the Planet of the Apes. I knew it was coming, I knew — but the complete impact of your performance of this character across three films just tore me apart. Watching the progression of that technology from the first new Apes film 'til now has been absolutely incredible. The detail, the suspension of disbelief in its completeness. Were you expecting that full emotional impact of the performance to come through as well as it did via the mo-cap presentation?
Andy: Obviously I have a long association with WETA Visual Effects company going all the way back through to Gollum. So they know my face so well [laughs]. The way they've evolved the technology over the past 17 years in terms of being able to interpret the artist/actors performance and render it so closely to the actual performance has gotten better with each movie. And everyone is saying how incredible their work is, because it really is.
People tend to think of performance capture as a form of acting, but it's not a way of acting — it's a technology. It's a way of translating the intention of an actor, their performance, into the character. It's gotten to a point now where it's almost totally transparent, with the software they've come up with to make the skin textures and the fur — all of that [is] completely photo-real. But also WETA's understanding of how to make an expression or emotion come through from the actor and putting it on the face of the ape is second to none.
BC: Have you watched the completed War yet? (Keep in mind this interview took place in July.)
Andy: Oh yeah, I've seen it three times since opening. I love it. I think Matt Reeves is just the most incredible director.
BC: It seems like he was really the right guy to come in and take over the franchise.
Andy: He REALLY was. Such a great combination from Rupert Wyatt into Matt is wonderful. Matt really loved what Rupert created with 2011's Apes film, and he loved being able to empathize with Caesar and to see the world through an ape's eyes. That's really what his cue was to take it through Dawn into War. And more so with War, because it's very Casear-centric. He really wanted this one to be us literally leading the audience through the eyes of the apes.
BC: How was it working with Woody Harrelson on this?
Andy: I loved working with Woody; we became very close on this. We have enormous respect for each other, and also just as these characters. The fascination between the Colonial and Caesar, despite the fact that Caesar is filled with such hatred. And the Colonial vice-versa, there is this sort of understanding. An almost bizarre respect and infatuation with each other. Knowing that if we weren't in a time of war, they might be able to see each other's point of view more.
BC: It's such a different relationship between Caesar and the Colonial than there was with Gary Oldman's character in Dawn, because that one was very black and white. But this one is so different and fascinating to watch on screen.
Andy: Particularly that last encounter between them. Each one had a different thing going on, but its the point where Caesar begins to empathize with the Colonial and yet is terribly conflicted. It really asks the audience the question of "What would YOU do if you were in that situation?" That's what great drama is all about, isn't it? Great drama is about, hopefully, taking an audience into a place where they're feeling it viscerally and emotionally.
BC: Gut. Punches. Emotional gut punches. Everyone in my screening sort of lost it when that last Caesar scene happened.
Andy: REALLY!?! That's great. Well, taking my son to see War, who didn't know it was going to happen, he was so angry with me for not telling him. He was really, VERY upset by it. He couldn't quite believe it, as he's grown up with Caesar. My other son too, actually, they both were like, "Why didn't you tell us?!" They were really offended that I didn't tell them.
BC: After this, do you have any plans to return to the stage? And what's next after this press tour?
Andy: Oh I'd LOVE to. It doesn't seem likely in the immediate future because there's so much going on, but I do miss it. The last play I did must've been maybe 15 years ago. I started off in theater; did probably 50 or 60 plays in my time. I love live theater. In a strange way, playing characters like this feels very much like the discovery you go through when you're creating a role for the stage. So at least it's not been entirely divorced for me.
I'm in the middle of post-production for Jungle Book, which is coming out next year from Warner Brothers. I absolutely love, LOVE it, and it's going to be quite special. I just finished a film I directed called Breathe, with Andrew Garfield and Claire Foy, that opens the London Film Festival and hits the States on October 13th. And I'm in pre-production for various other projects, but there's a lot going on. I like to stay busy.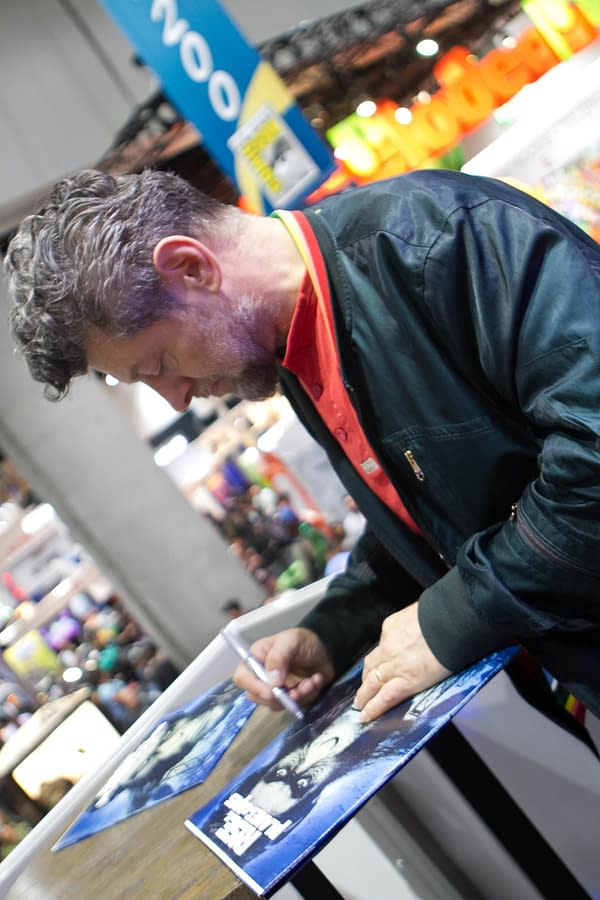 * * * * *
Thank you so much to Fox and to Mr. Serkis for letting us have the opportunity.
Make sure you pick up War for the Planet of the Apes, arriving on Digital October 10th and Blu-ray, DVD, and 4K Ultra HD on October 24th 2017. You can order/download directly from FOX's official website here.