Watch: First Trailer for Book Club, Featuring All-Star Female Cast
This film probably won't be up everyone's cinematic alley, but Book Club has a truly amazing cast of fantastic actresses. I'm someone who grew up in the First Wives Club era — a film with an incredible group of women coming together amid hilarity and heartbreak. Book Club looks like it's right on par with that.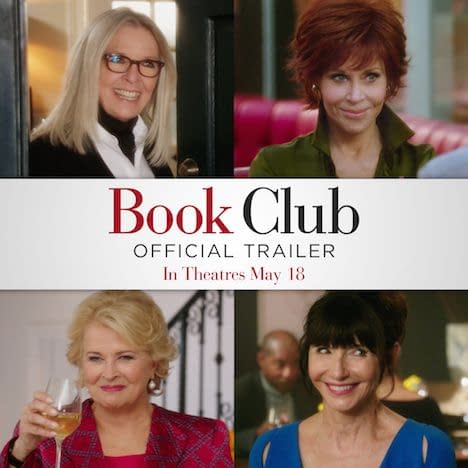 Touting such a celebrated cast as Diane Keaton, Jane Fonda, Candice Bergen, and Mary Steenburgen, it's kind of hard to go wrong, really. Four lifelong friends' lives are turned upside down to hilarious ends when their book club tackles the infamous Fifty Shades of Grey. From discovering new romance to rekindling old flames, they inspire each other to make their next chapter the best chapter.
Diane (Keaton) is recently widowed after 40 years of marriage. Vivian (Fonda) enjoys her men with no strings attached. Sharon (Bergen) is still working through a decades-old divorce. Carol's (Steenburgen) marriage is in a slump after 35 years. Craig T. Nelson, Andy Garcia, and Don Johnson are also on cast for the film.

This is Bill Holderman's (who usually produces) first time directing.
Book Club is set to open on May 18th.