Footage From Kingsman 2: The Golden Circle Shown At San Diego Comic-Con – Halle Berry Just Chugged Half A Glass Of Bourbon
The Kingsman 2: The Golden Circle panel has started at San Diego Comic-Con. And they have been showing footage. As has been reported in by Bleeding Cool's Kaitlyn Booth…
It starts off with a cartoon Eggsy parkouring across rooftops. He gets to the Kingsman shop and meets Sterling Archer. They have a back and forth with ends a drinking contest and Archer collapses. Eggsy wonders if this is what passes as the best spy in the USA and if he needs to go teach them a lesson.
Fade out of the Kingsman logo on the store
Charlie from the from the first novie shows up and takes Eggsy by gunpoint
They end up in a speeding car fighting in the back
Charles has a metal hand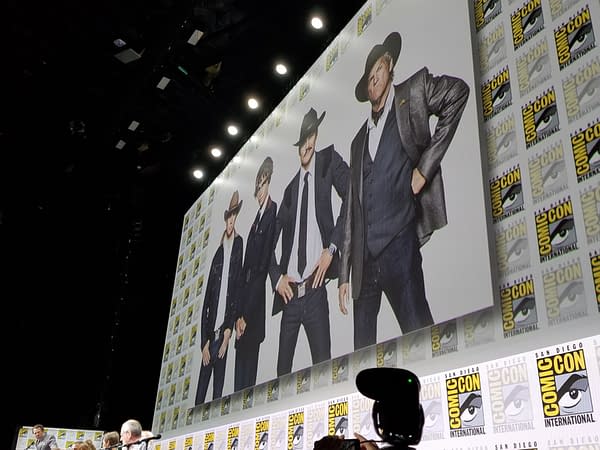 It's the chase we have seen in the trailers
They crash and Charlie gets ejected from the car. Loses his arm.
Eggsy is now getting the hell out of dodge but he's being chased.
We see Merlin. Great chase scene
Eggsy fires three rockets that take out three cars
He's driving into water now
The car becomes a sub
Drives the sub into an underground base. Done.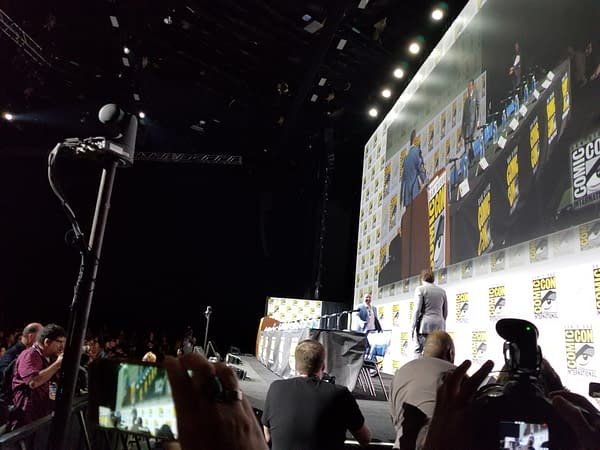 What else do we learn?
Halle's character is Mark Strong's character for the Statesman
Pedro learned how to use a lasso
When asked how to pronounce lasso, Bridges says "I call it a rope"
Pedro says he's very good at the whip
Eggsy and Merlin are at the statesman distillery
Channing Tatum has just showed up. That'ss an interesting gambit.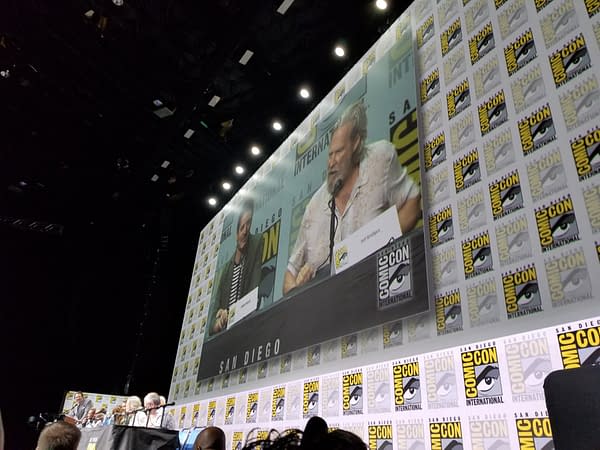 Tatum just walked in and caught Merlin and Eggsy are trying to find the statesman base.
He beats the crap out of both of them and Tatum turns Eggsy's own tech against him
Moderator is going to try and get Vaughn on the phone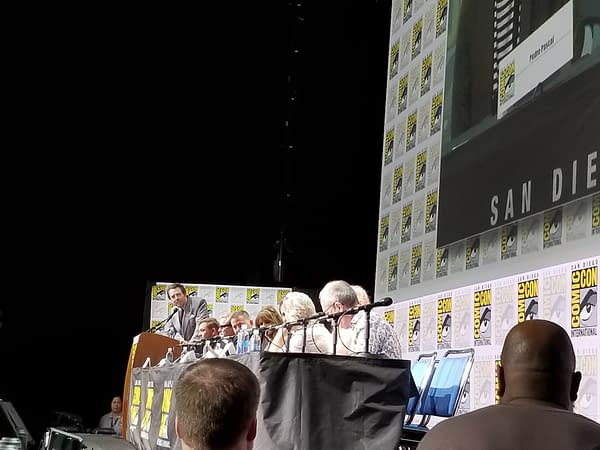 They are doing shots.
Vaughn is on facetime. Said hi to everyone
Dave Gibbons is doing original art of Taron as Eggsy that they will be giving away at the end.
Halle Berry just chugged half a glass of bourbon. We will have video later. Next clip incoming. We're seeing the Julianne Moore's villain
She declares her drugs are everywhere and laments having to live in the middle of nowhere
She has a total monopoly on the drug trade
She wants to put a guy in a mincer
ROBOT DOGGIES
fed through a mincer Fargo style