Disney released a new trailer this morning during Good Morning America for Frozen 2, the 58th film to be produced by the  Walt Disney Animation Studios.
Frozen 2 re-teams Anna, Elsa, Kristoff, Olaf, and Sven as they head out on a new adventure.  The new trailer introduces some new elements that extend beyond the Kingdom of Arendelle including the Enchanted Forest and dark seas. It's a different world for Elsa, who is now out in the open with her magical ice powers. The pressing question is whether these powers will be enough in this second go-around.
The trailer starts with King Agnarr (Alfred Molina) sharing a bedtime story to Elsa and Anna about the Enchanted Forest. Whatever happened in the Enchanted Forest has led to nobody being able to get in or out. This soon segues into Elsa (Idina Menzel) hearing a voice call to her. Something happens and it gets revealed that the kingdom isn't safe.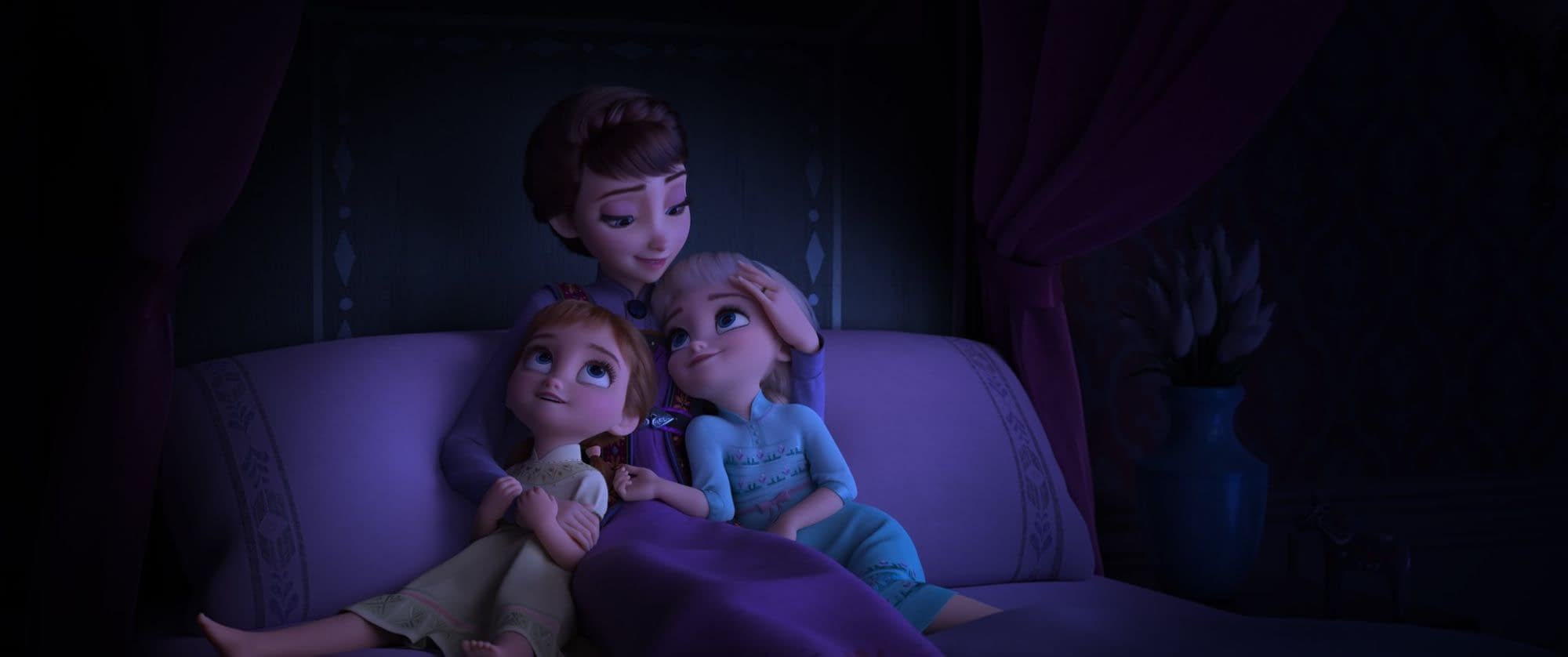 Many new roles and voices are revealed in the second trailer. King Agnarr, voiced by Alfred Molina, is Anna and Elsa's father. He died in a tragic accident years earlier with Queen Iduna, now voiced by Evan Rachel Wood. Yelana, voiced by Martha Plimpton, is the protective leader of the nomadic Northuldra. The free-spirited Honeymaren, voiced by Rachel Matthews, is a member of the Northuldra. The optimistic Ryder, voiced by Jason Ritter, is Honeymaren's brother. He's never ventured outside the Enchanted Forest. Finally, we're introduced to Bruni, a cute salamander residing within the Enchanted Forest.
The film comes six years to the date since the release of Frozen in 2013. Frozen would bring moviegoers out in droves upon release and would go onto become the highest-grossing animated film of all time in terms of classic animation.
Chris Buck and Jennifer Lee both return to direct the sequel. The cast includes Kristen Bell, Idina Menzel, Josh Gad, Jonathan Groff, Sterling K. Brown, Evan Rachel Wood, Alfred Molina, Martha Plimpton, Jason Ritter, and Rachel Matthews. The Oscar-winning team of Kristen Anderson-Lopez and Robert Lopez also return to provide new songs for the film.
Frozen 2 will be released in theaters on November 22, 2019.
Enjoyed this article? Share it!