By Hilton Collins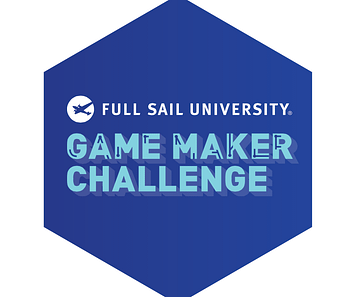 Lights, cameras—pixels! This past spring, a film crew captured students at Florida's Full Sail University competing in the first 48-hour Full Sail Game Maker Challenge, a contest where three teams of developers each designed a game to be evaluated by judges and the public. Members from the winning team received a console of their choice and got some snazzy experience to beef up their resumes along the way.
Full Sail's digital entertainment studio Rebel HQ produced the show in partnership with Maker Studios, a YouTube content network. They hired veteran reality TV show producer Jamie Iracleanos (Comic Book Men, My Big Redneck Vacation) as the showrunner, and he led the camera crew who filmed students on campus.
[youtube]https://youtu.be/2stOLepUfAU?list=PLFdg8AFOBih0o_2re4n07WGqrcNEvPDYD[/youtube]
The event was part video game hackathon, part reality show. Each developer group had an online gaming celebrity as a team captain, and the whole affair premiered as a five-episode YouTube series on March 28. The episodes have garnered more than 600,000 views combined on multiple channels since initial upload, so legions of people have watched some of Full Sail's best and brightest slave away for a little chunk of gaming glory.
Sleep was scarce and intensity was high for most challenge participants, but roughly 24 hours into the competition, a curious thing happened to developers in team Giga Breakers in Episode 4. They realized they were farther ahead in the development process than their competitors, and they were relaxed compared to everyone else. Two days isn't much time to make a game, so the situation seemed almost magical to Dave, Giga Breakers' head development producer.
"This is completely surprising. This is a unicorn, what the team and I are doing, because it's done right away," he said.
His team was nearly done with major programming even though they still had about half the contest's running time left—an impressive feat in a marathon coding and design scenario. Giga Breakers and the other teams, the Professionals and the Red Ducks, worked like gangbusters to create worthy products. All three groups finished in time, but it was a bumpy race to the end with roadblocks in between.
Teams followed development guidelines throughout the contest, which often involved giving presentations to the other groups. They came up with official game concepts at the challenge's beginning, and successive development milestones included deciding the art and design style, working out core functionality in the alpha release stage, ironing out the bugs and audio features in beta release, and completing the final product.
That's a recipe for an intense, potentially dramatic situation in real life for the students experiencing the contest, but a reality show about a bunch of people sitting at computers seems like it could be tough to make interesting for viewers watching them for entertainment. The Full Sail Game Maker Challenge needed an element to make it a bit more personable for the viewing public.
That's where the YouTube gamers came in.
[youtube]https://youtu.be/wkyLxsBgn0k[/youtube]
Online gaming celebrities with massive followings hosted episodes and served as leaders and team spokesmen. They helped keep developers on task and communicated students' experiences in on-camera interviews. Developers were often too busy making the games, so the YouTube gamers stepped in to liven things up.
"When the students are making these games, their head is like, in it," Iracleanos said. "We needed someone who was authentic to the gamer world to be in the room and speak to these developers."
Show producers approached YouTube sensations Keyori, Shofu, and Jess to be broadcast talent. They belong to the wildly popular community of Internet personalities who upload videos of themselves playing games with lively commentary. Keyori led the Giga Breakers team, Shofu led the Professionals, and Jess led the Red Ducks.
In Episode 1, Jess told teams that the challenge's theme was "Dream Big," a somewhat vague premise, but enough to get developers started. Each teams' game took on a surreal, dream-like design style as the series progressed, but the development process had a few nightmarish roadblocks. In the first episode's cliffhanger, the Professionals and the Red Ducks discovered that they were both making games with the same playing style. They planned on making bullet hell shooters, games where the player character fires projectiles at enemies that return fire in wild projectile arrays that can fill the entire screen. Jess had the Red Ducks modify their game's attributes to make something more unique in Episode 2.
The Red Ducks created Full Circle, a top-down, run-and-gun game where players move a shape around a room, and the shape fired at enemies. The shape acquired combat attributes by absorbing other shapes. Full Circle's level design featured cloud imagery, presumably in reference to the challenge's "Dream Big" theme. The Professionals stuck with bullet hell gameplay and created Whisper Run, a vertically scrolling rhythm game where players control a sound frequency they move to musical beats. Music-themed games like Dance Dance Revolution or Guitar Hero are incredibly popular, and the Professionals mined that musical well, so to speak, for their own digital creation.
Episodes show students toiling away, but the content is remarkably drama-free compared to other reality shows with young people, like the endless stream of programs that populate MTV networks. When it comes to professionalism and behavior, the Full Sail Game Maker Challenge indirectly serves as a commercial that highlights good-natured competitiveness, which no doubt makes the school proud.
[youtube]https://youtu.be/heDLu3wYn2s[/youtube]
But perhaps there wasn't much drama because there simply wasn't much time for it. People were too busy making games.
"They're here because they're extremely passionate about what they've chosen as their career, so if you give them 48 hours, they're going to use 47:59:59 seconds," said Tyler Garner, Full Sail's social media manager.
Everyone worked hard, but the Giga Breakers were the least stressed because they designed their game with simplicity in mind. They created Between the Lines, a mobile device-optimized side scrolling platformer where players control Beanie, a walking, jumping, and floating bird that looks like he was sketched in pencil. Game elements are stylized like drawings on lined paper, and character images have a simplistic Steamboat Willie vibe.
The environment scrolls constantly from left to right, and players keep Beanie from falling off platforms by pressing the screen. The longer they hold their finger down, the higher Beanie rises up from deadly pitfalls below, but if he goes too high and moves off the screen, he dies as well. It's an endless runner game, a timeless and ubiquitous platform style where the character runs until it dies unless it's maneuvered away from harm. Modern mobile games like Temple Run and Subway Surfers are endless runners, and classic consolers like World Runner and Space Harrier were their early predecessors.
[youtube]https://youtu.be/r9rh7tAFYA4[/youtube]
Giga Breakers won the challenge in Episode 5, so their hard work paid off. The YouTube hosts played and judged each game, and then show producers took the games to the Geek Easy bar to be played by the public. Between the Lines squeaked out a victory over Whisper Run by one point and is available for play on the Android platform.
The challenge yielded great results for participants and the production team. Not only did students get great professional experience and a unique personal opportunity, but Full Sail also showcased what its students are capable of.
"We're really happy with how it's turned out and the response from the online community," said Drew Walkup, Vice President of programming at Maker Studios. "It's been a very positive experience, so we're actively trying to figure out our next step. Is it a filmmaking challenge? Is it a challenge for musicians or audio engineers? How can we get back in there and figure out ways to create amazing content with the students here and showcase what they're doing?"
Writer and videographer Hilton Collins loves sci-fi and fantasy wherever he finds it, whether it's in comic books, movies, books, short stories, TV shows, or video games. On the video side, he studies filmmaking, motion graphics, and animation; and on the writing side, he covers what he loves for Bleeding Cool and on his own blog, Imagination Unplugged (www.imaginationunplugged.com), a website about entertainment and self-help for creative professionals. He is @HiltonCollins on Twitter.
Enjoyed this article? Share it!