Gavin Rothery on Bringing AI Thriller Archive to Life
In this episode of Castle Talk, Rooster Teeth Technical Director Tony Salvaggio talks to Writer/Director Gavin Rothery about his soon-to-be-released science fiction thriller Archive. Gavin fills us in on the development of the film, his influences, and what it is like to transition from being an artist and production designer to acting as writer and director on his first feature film. Talking about his follow-up to the critically- acclaimed "Moon," Gavin gives insight into bringing tight sci-fi films to life. We get a peek at the development and production process of this stunningly taut tale of a man and his singular pursuit to bring back the person he holds most dear. In the free-flowing conversation, Gavin also discusses how a nine-year project came together, and how calling upon all of one's "plus one" skills becomes vital in creating art.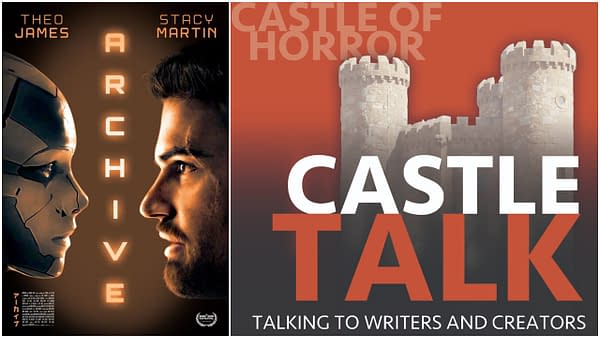 Vertical Entertainment will release the sci-fi film Archive in Virtual Cinema Screenings, On Demand, and Digital on July 10th. The film was an official selection for the 2020 SXSW Film Festival.
Archive stars Theo James (Divergent series, Lying and Stealing), Stacy Martin (Vox Lux, Nymphomaniac Vol I & II), Rhona Mitra (Sweet Home Alabama, "Boston Legal"), Toby Jones (Tinker Tailor Soldier Spy, The Hunger Games) and is the feature screenwriting and directorial debut of Gavin Rothery.
Listen here:
Listen on YouTube:
Check out the Trailer:
Tony Salvaggio is Pipeline Technical Director at Rooster Teeth, lead singer and bassist of the band Deserts of Mars and lead guitarist of the band Rise from Fire. He has written countless columns and articles as well as comics for Tokyopop and Humanoids.
Jason Henderson is the host of the Castle of Horror and Castle Talk Podcasts, the editor of the Castle of Horror Anthology series, and the author of Quest for the Nautilus: Young Captain Nemo from Macmillan Children's Books. His new horror novel, under the pseudonym Peyton Douglas, The Book Man, debuts in June.