Last night I took myself on a much-needed solo date to see Birds of Prey at my local AMC theater. My AMC recently got renovated, making the movie going experience a little more enjoyable. The theaters now have heated, reclining seats, the audio was updated, and they installed a new MacGuffins bar! Now I know a bar in a movie theater doesn't seem all that exciting anymore, but I like the MacGuffins bars inside AMC for one simple reason — they have nerdy themed cocktails for movies.
After hearing great things about the new Birds of Prey movie, I carved out some time to take myself to see it. I'm not huge about going to the movies, but I typically make exceptions for comic book movies. As I said earlier, my AMC got a remodel — including a bar. And what was in said bar? Two fancy new Birds of Prey inspired drinks! Truthfully no clown has got me down, but I appreciate the fun, eye-catching ad. It's clear their marketing team had fun with this one.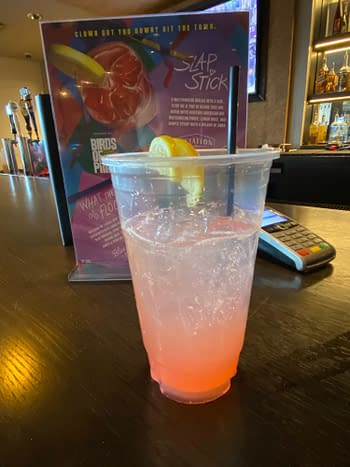 Now, these drinks are $14 a piece, so I opted for the Slap Stick drink. It's made with Aviation American Gin, which is heralded by Deadpool himself — Ryan Reynolds. This all-around nerdy drink came pretty quickly, and boy was it strong. I tasted more gin than I did watermelon, but it was the perfect start before the movie. This is probably something Harley Quinn herself would drink. It's fun, it's definitely something you could drink during the summer, and it'll help you get over your clown of an ex pretty quickly.
If your local AMC has a MacGuffins bar inside of it, I strongly urge you to go try one of these drinks. You won't look like a fool as you sip on them at the bar!
Enjoyed this article? Share it!