 Comedian Kathy Griffin found herself in career peril this week after posting a photo to Instagram of herself holding a mockup of the severed head of President Donald Trump.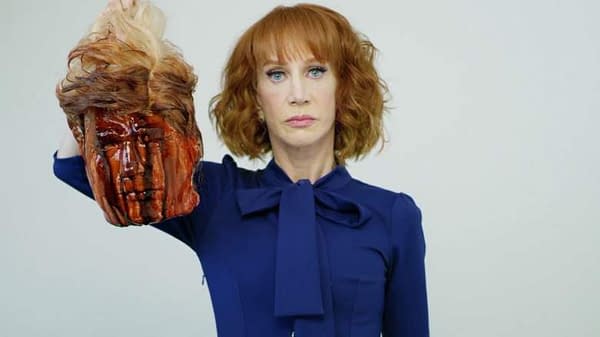 Trump was incensed by the image…
Kathy Griffin should be ashamed of herself. My children, especially my 11 year old son, Barron, are having a hard time with this. Sick!

— Donald J. Trump (@realDonaldTrump) May 31, 2017
…and CNN fired Griffin from her gig as the co-host of their New Years Eve coverage in response. Griffin, for her part, apologized:
https://twitter.com/kathygriffin/status/869703678550171648
But for fans of heavy metal band GWAR, who have been brutally murdering the effigies of U.S. presidents onstage for decades (and spraying the audience in with the blood spurting form their necks), the whole scandal was just old hat. When we brought it up on Twitter, Matt Miner, co-writer of the upcoming comic book GWAR: Orgasmageddon, pointed out that GWAR had a response of their own to the controversy:
https://twitter.com/MattMinerXVX/status/870258029115183108
In the video, GWAR bassist Beefcake the Mighty complains that Griffin stole the band's bit. "You think you're so shocking with your severed Trump head. I think you know where that came from. It came from GWAR, you twit!" Beefcake also teases a new album from the band, which he says they may reveal in the coming weeks. "If you want the original recipe head choppers, it's GWAR, human scum!"
GWAR will be touring on the Vans Warped Tour this Summer, and GWAR: Orgasmageddon #1 will be in stores next week, June 7.
For an encore, here's GWAR's fifth appearance on the AV Club's AV Undercover, wherein Hillary Clinton and Donald Trump do battle to a cover of AC/DC's If You Want Blood (You Got It) (spoiler alert: they both end up disemboweled):
https://www.youtube.com/watch?v=tfiaYVCPgbI
Enjoyed this article? Share it!