Halloween Tracking For Opening Between $1 and $70 Million
Halloween opens in theaters tonight, the horror masses will pack the theaters, and Michael Myers will reclaim his slasher throne that he richly deserves. The film is excellent (check out our review here), and should mean lots and lots of repeat business over the coming weeks. But as we all know, the only number that matters anymore is the first one. Various numbers have been thrown around in association with this one, anywhere from the $40 million to now $70 million dollar range. Any number above $26 million would make it the biggest opening for the franchise in its history. On a reported budget of $10 million, it would also make a sequel announcement inevitable, maybe by the end of the weekend.
The film takes place 40 years after the events of that fateful Halloween night that Michael came home in 1978. Since then, Michael is now in an asylum. A British film crew decides to do a documentary on his exploits, and wouldn't you know it, he escapes. Getting ahold of his iconic mask, he makes a beeline for Haddonfield to finish the job. What he does not know is that Laurie (the returning Jamie Lee Curtis) has been prepping for this confrontation as well. The two will face off for what may or may not be the last time where it all began.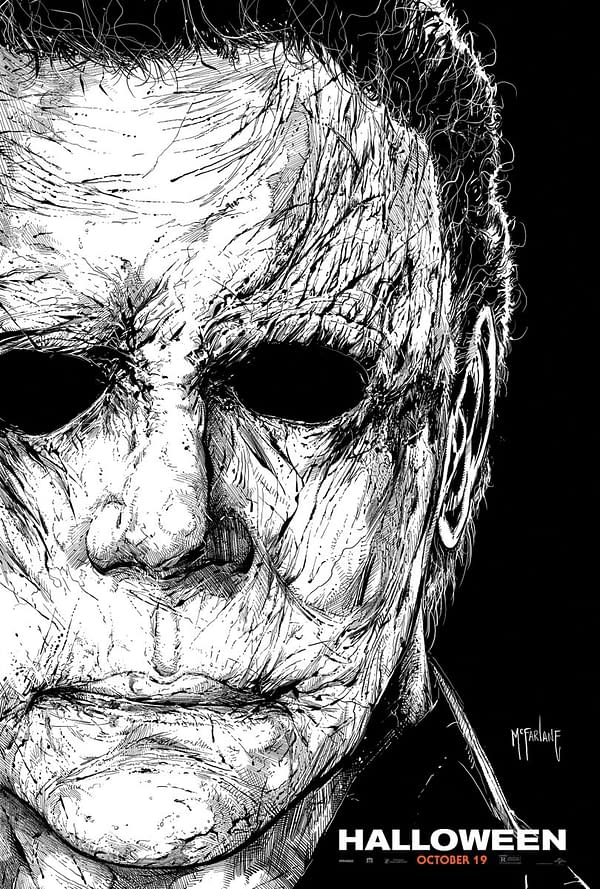 I hate these dumb box office guessing games, but based on many factors that I am thinking of in my head, I will say that the film opens at about $56 million. The quality is there and fans will turn out in droves, but horror films for the most part are front loaded and the biggest grosses should be tonight/tomorrow.
Halloween, starring Jamie Lee Curtis, Judy Greer, Andi Matichak, Virginia Gardner, Will Patton, Miles Robbins, Jefferson Hall, James Jude Courtney, and Nick Castle as The Shape, directed by David Gordon Green, hits theaters everywhere tonight. Go see it!