David Bowie would have turned 71 today, had we not lost his force of space nature two years ago. He left us with an amazing collection of work; music, film, and his continuing legacy of being true to one's self (whichever self that happened to be at the time). It's also Elvis Presley's birthday — the two had a friendly birthday-rivalry during the years they both occupied the earth.
Looking back on such a career is no easy thing; just picking his best film performance is difficult, LET ALONE persona era. He was The Thin White Duke, Ziggy Stardust, a scary monster and vampire, the Goblin King, Nikola Tesla, and at the end with "Blackstar", himself.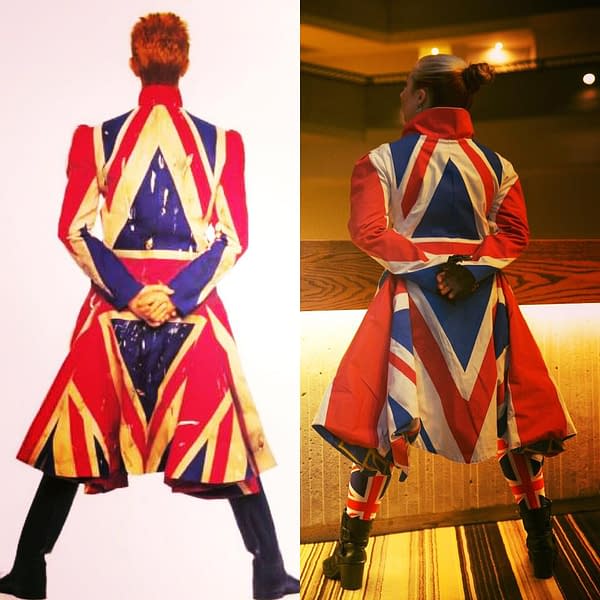 He continues to inspire generations of artmakers, musicians, and writers. The stunning tribute work that still pours in from across the world is a testament to how his presence influenced all walks of art creation.
My personal favorite of these being the tribute concerts put together by his former bandmates, best friends, and musical contributors from over the years, Celebrating David Bowie. They're just getting ready to launch another tour this year, across Europe and North America. But seriously, Gary Oldman joined the performers to sing lead on "Dead Man Walking" last year on Bowie's birthday in Brixton, and for "Man Who Sold The World" on his own birthday in San Francisco two months later. Oldman, along with goddess Annie Lennox, spoke passionately and lovingly of Bowie during the BRIT Awards where David was honored with the Icon award.
Just today, there was a never-before-released demo version of "Let's Dance" recorded in Switzerland with producer Nile Rodgers:
There was also the multiple times Tilda Swinton honored her friend and collaborator, even in the years before his passing, like this moment from the opening of the Bowie Fashion exhibit at the Victoria and Albert Museum in London.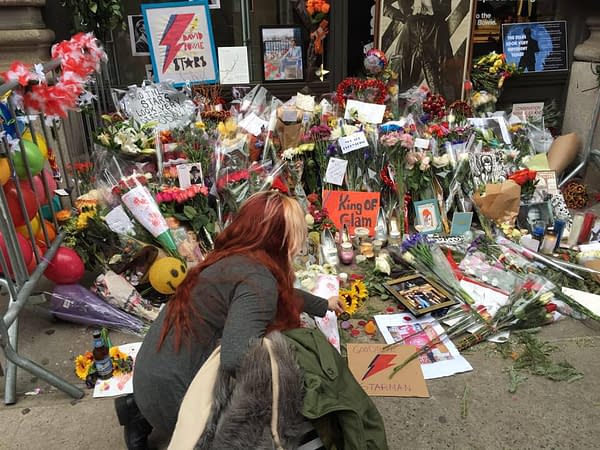 Icon and supermodel Iman, wife of David Jones (Bowie's real name), continues to post some of the most lovely tributes to her late husband. Today, it was this collection of baby photos of David, with the text "1947 – Forever #BowieForever #ForeverAndEver".
Director Duncan Jones (Moon, Warcraft), David's son, posted an incredibly heartfelt message today, complete with a picture of a handmaid card:
8th of Jan again. A strange feeling for me.
I know how excited dad was to have a grandson on the way, & I made this card for his birthday having told him a month earlier he was going to be a grandad. Makes me smile at our shared goofy sense of humour. 🤓
Happy birthday dad! pic.twitter.com/T46ImqDNGg

— Duncan Jones (@ManMadeMoon) January 8, 2018
As Jones went on to explain in the comments, the image depicts Duncan holding his not-yet-born son, and David in turn holding Duncan.
Director James Gunn posted his David Bowie Awesome Mix Vol. 1 playlist on Spotify, and it's pretty great.
HBO is debuting their Bowie documentary tonight, David Bowie: The Last Five Years, so there's a good way to celebrate tonight.
https://youtu.be/OwuuDpwPYxo
Enjoyed this article? Share it!