Harrison Ford Wants Nothing To Do With The Young Han Solo Movie [Updated]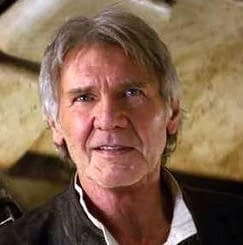 From the Star Wars press event with the cast of Star Wars: The Force Awakens in London, Harrison Ford says that he wants nothing to do with the planned Young Han Solo spinoff movie.
Patrick Dane was there, where Ford said:
As far as the movie featuring a young Han Solo. I…(laughs) I don't know what to think about that. I'm glad that somebody else is is going to have the burden of being young. It's well beyond my understanding or control and I personally want nothing to do with it, in the nicest possible way. I know it will be well done and well guided. And, um, it's nothing to do with me.
Don't look for any bookending flashforwards, I guess. Until then, you can just play with this…
Update: To add some context, Ford clearly had a good time on The Force Awakens. He did also say:
I have actually relished this entire experience in a way I was not anticipating and a lot of that is thanks to JJ and Larry [Kasdan]. This is a rare experience in my old life and I'm very grateful for it.