 Our man on the ground, Hugh Sheridan is in the Iron Fist Panel taking place at NYCC right now. It's expected we will get a bunch of details on the series, with possibly a trailer hitting.
Here are some of Hugh's notes as they happen at the Panel:
Lots of surprises promised – "big day for marvel tv" loeb
Finished shooting last scene of Iron Fist "this morning"
Guy who played stryker/diamondback in luke cage appears Erik laray harvey appears on stage
They show deleted scene where stryker kills other mob bosses
Iron Fist cast: from dexter showrunner Scott Buck
Jessica Stroup who plays Joy Meachum and Tom Pelfrey (Ward Meachum) are here.
Rosario Dawson – Claire Temple is in this series & on stage
Show clip from show- shoeless hippy Danny Rand walking around NYC visiting Rand Enterprises office HQ asking for Harold Meachum. Coompany is involved with farming & agriculture.
Rand kicked out of office fights way back in with Kung Fu. Show a clip showing how bad meachum siblings treat Danny Rand
Resaurant confrontation – Joy to Rand "we want you gone"
Show a hallway fight with lots of Iron Fist fighting
Colleen Wing cage match clip shown – some sort of tournament fight. She boxes aggressively – taking down big burly guy.
Another scene – Harold Meachum meets Danny Rand – Rand wakes up Harold sitting in front of him menacingly
Remember song I used to sing that would annoy u?
"Yeah, Danny boy" says Rand. Meachum sings song in very sinister tone. Meachum wants to know where monastary is.
Rand tells him Kun Lun, says he is the sworn enemy of "the Hand" and the only one who can destroy it.
Iron fist trailer debuts.
Glowing Iron Fist is in the show, as is Madam Gao.
Rand will have the fist tatoo on his chest.
And Jon Bernthal is here!
He officially announces that they started production on Punisher series last week. (We knew that).
Karen Page will be in Punisher, and Deborah Ann Woll is now on stage.
Finn Jones is back on stage. He went to bring out Defenders on stage.
Villain of defenders is Sigourney Weaver!
And here is the photo of the Defenders on stage.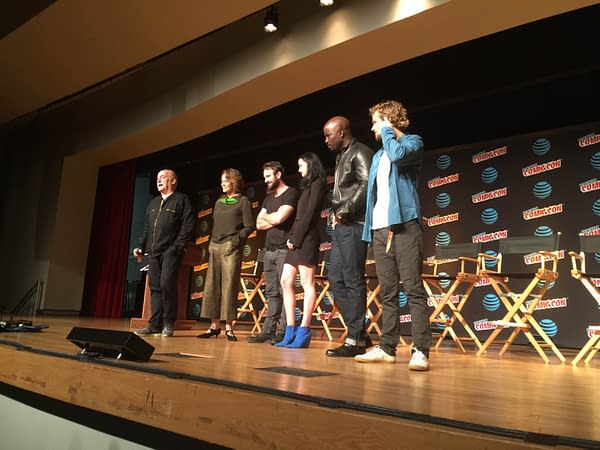 Panels over interesting that they didnt say if punisher is in the defenders – he left the stage when they came on.
Enjoyed this article? Share it!