James Gunn Asks The Superman Question The World Needs Answered
Cho-chairman and co-CEO of DC Studios James Gunn has taken to social media to ask you, the public, the most important question regarding Superman.
---
Yesterday, James Gunn and Peter Safran dropped a lot of news regarding their plans for the new DC Universe. On top of all the things already in varying production forms, we also got ten new announcements for Chapter 1: Gods and Monsters. There were five shows and five movies included in that announcement. We already knew that Gunn was writing a new Superman movie, but we got the first details for the film and a title; Superman Legacy.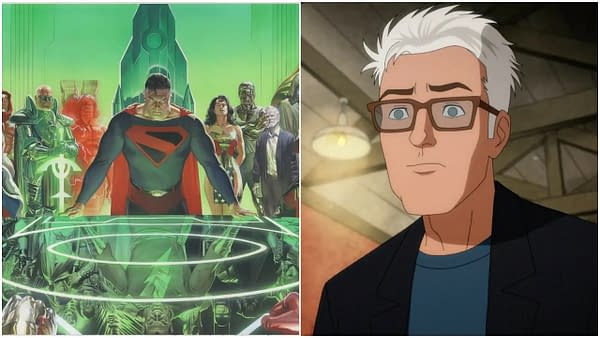 Gunn, infamous now for using social media to his advantage, has taken to Twitter to ask the public the most important question regarding one of DC's most famous and powerful characters: trunks or no trunks?
Of course, this is all in good fun. Unlike a certain CEO running a particular social media company, Gunn clarified in a follow-up Tweet that he wouldn't be using this to make serious decisions stating: "Btw this is for fun. We're not going to decide whether Superman has trunks or no trunks based on an egregiously non-scientific Twitter poll." There is one person who knew that this was the question of our time, and that is Bleeding Cool's favorite politician and proud Snyder fan, Congressman Robert Garcia, who said he not only voted in the poll but voted from a very specific location.
Only important conversations about comic book heroes on social media these days.
Superman Legacy – The First Details
In December of 2022, roughly two months after taking on leadership positions at DC Studios, James Gunn and Peter Safran announced that Gunn would be writing a new Superman movie that would focus on the character in his younger years. We know that Henry Cavill will not be returning to the role, and they will be looking for someone new. During the massive January 2023 information dump about the new DC Universe, we learned a little more about the film, including that it won't be an origin story. That is probably the right way to go since we all pretty much know this origin story.
"This is really the start of the DCU. It's currently being written by James, and I sincerely hope that he can be persuaded, perhaps, to direct it as well," Safran said. "It is not an origin story; it focuses on Superman balancing his Kryptonian heritage with his human upbringing," Safran added. "He is the embodiment of Truth, Justice, and the American Way. He is kindness in a world that thinks of kindness as old fashioned."
A tentative release date of July 11, 2025, is set.