Despite the fact that Avengers: Infinity War comes out in a few months, we haven't seen that much of the production. There has been precious little footage released, but we have been able to pick up on a few things. There is going to be some sort of fight in New York, and there is going to be a huge fight at Wakanda. We've seen a little of that fight in Wakanda — and it's during that fight that Entertainment Weekly got to witness some of the ground-level characters interactions.
The whole point of doing a superhero team-up is to see how all of the characters bounce off of each other. There are so many characters in this movie that the little interactions are probably going to be missed the first few times someone watches the movie. This is a movie that will be defined by the subtle details as much as the big and insane action scenes.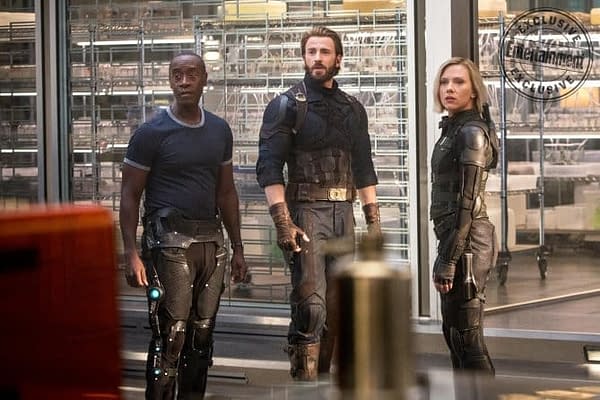 Such as what would happen if Bucky Barnes, aka The Winter Soldier (Sebastian Stan), were fighting alongside Rocket Raccoon (voice by Bradley Cooper)? Well, what do you think would happen? They are fighting Outriders when Rocket decides it's the best time to offer Bucky a deal he can't refuse.
"How much for the gun?" the furry dealmaker asks, admiring the firepower clutched by Bucky's mechanical limb.
"It's not for sale."
"Okay, how much for the arm? The arm?" Rocket persists. (He has a weird thing about prosthetics.)
Because of course Rocket would want some of Bucky's tech. He's probably going to lose his mind at the sight of Shuri's weapons. These are people that have never met before having to trust each other in massive battles. It isn't going to be an easy thing.
That doesn't mean we should limit these fun interactions to people who have never met before. There are some characters being reunited after being apart for a long time — such as Thor (Chris Hemsworth) and Steve Rogers, aka Captain America (Chris Evans), fighting together for the first time since Avengers: Age of Ultron. Hemsworth and Evans were workshopping a way to call attention to the fact that their characters have essentially switched hairstyles.
"I'll be like, 'Short hair now? Good choice,'" Evans says, while miming a right hook against an invisible Outrider.
"And I'll go, 'Yours too. The beard. Very rugged,'" Hemsworth says.
Whether that exchange makes it into the movie is unknown, but it does sound like something these two characters would say to each other. They practically had a drinking game for lifting Mijonir, so why not compliment each other's hair and beards?
Summary: As the Avengers and their allies have continued to protect the world from threats too large for any one hero to handle, a new danger has emerged from the cosmic shadows: Thanos. A despot of intergalactic infamy, his goal is to collect all six Infinity Stones, artifacts of unimaginable power, and use them to inflict his twisted will on all of reality. Everything the Avengers have fought for has led up to this moment – the fate of Earth and existence itself has never been more uncertain.
Avengers: Infinity War, directed by Anthony and Joe Russo, stars Robert Downey Jr., Josh Brolin, Mark Ruffalo, Tom Hiddleston, Chris Evans, Chris Hemsworth, Jeremy Renner, Chris Pratt, Elizabeth Olsen, Sebastian Stan, Benedict Cumberbatch, Paul Bettany, Chadwick Boseman, Benedict Wong, Zoe Saldana, Karen Gillan, Vin Diesel, Dave Bautista, Pom Klementieff, Scarlett Johansson, Don Cheadle, Tom Holland, Bradley Cooper, Sean Gunn, and Anthony Mackie. It will be released on April 27th.
Enjoyed this article? Share it!