Jason Statham vs Largest Shark Ever in First Trailer For 'The Meg'
Warner Bros. had my money when they announced they were turning Steve Alten's 1997 book "The Meg" into a movie. Then, word came that it'd be Jason Statham in the lead, and I knew I was probably going to LOVE this film.
I love shark movies, I don't care how bad they are, I'll see them. I'll give pretty much all of them my money, except for the Sharknado films. Don't get me wrong, I enjoy live-tweeting them each year we get a new one, but they are far from the pure cinema magic of let's say….Jaws.
Shark films aren't for everyone, we know this. The surprising wide appeal of 2016's The Shallows starring Blake Lively was surprising, and was more rooted in reality than most of the 'normal' great white driven film-fodder (47 Meters Down, anyone?).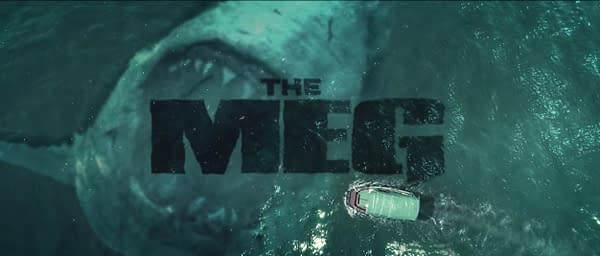 Anyhow- The Meg asks what if the miocene megalodon did NOT truly die out, and one was hunting around in the South China Sea. What? It could happen! If Shark Week has taught us anything- it's that you don't go to Seal Island during the summer.
I digress- check out the trailer below (but maybe don't read the youtube description because it's really long and reads more like a press release than an actual, you know, trailer description):
There is no way I'm not loving this movie. It's got everything!
Aside from Statham, the cast includes Rainn Wilson (The Office, Star Trek: Discovery), Ruby Rose (xXx: Return of Xander Cage, Orange is the New Black), Winston Chao (Skiptrace, Kabali), Page Kennedy (Rush Hour, the tv series), Jessica McNamee (The Vow, Sirens), Ólafur Darri Ólafsson (The BFG, The Missing), Robert Taylor (Focus, Longmire), Cliff Curtis (Risen, Fear the Walking Dead), Sophia Shuya Cai (Somewhere Only We Know), and Masi Oka (Heroes, Hawaii 5-0).
The Meg is set for a August 10th, 2018 release.