Jennifer Lawrence's Black Widow Movie, Red Sparrow, Gets R Rating for Torture, Graphic Nudity, More
Marvel has only recently been starting to seriously consider making a Black Widow movie, despite fans clamoring for one since the character appeared in Iron Man 2 in 2009. Marvel's lack of action has led a rival to make a Black Widow movie first. Red Sparrow, starring Jennifer Lawrence, has the opportunity to set the standard for Black Widow films, and it's chosen to set the standard of Hard R.
Marvel's first movie starring a woman in the lead role will be Captain Marvel, coming out in 2019. Prior to that, Marvel will have released 20 movies, all starring male leads or primarily male ensemble casts, and all directed by men. Captain Marvel, at least, will be co-directed by a woman, Anna Boden, along with Ryan Fleck. With so many opportunities to make a Black Widow movie that Marvel didn't bother to capitalize on, despite a perfectly viable box office star in Scarlett Johansson, Lawrence invoked the "You Snooze, You Lose" Hollywood rule and decided to star in her own. And that's how we got Red Sparrow.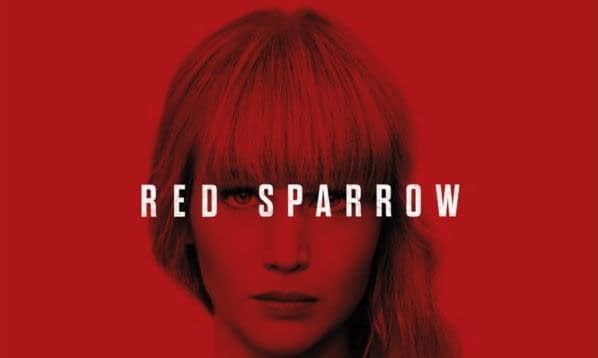 But while Marvel tends to take a PG-13 approach to making superhero movies, to the extent that some fans have expressed concern over franchises like Deadpool once Disney takes over Fox, Red Sparrow, produced and being released under the as-yet-independent Fox has no such qualms. The movie has been rated R by the Motion Picture Association of America. Here's the official rating, courtesy of MovieWeb:
Red Sparrow is Rated R for strong violence, torture, sexual content, language and some graphic nudity.
So not only are we finally going to get a Black Widow movie, but we're getting an R-Rated Black Widow movie at that! Directed by Francis Lawrence, based on the novel by Jason Matthews, and starring Jennifer Lawrence, Joel Edgerton, Matthias Schoenaerts, Charlotte Rampling, Mary-Louise Parker, and Jeremy Irons, Red Sparrow hits theaters on March 2nd.
Check out the trailers below, plus a preview for another trailer, which is set to debut Sunday during the Super Bowl.