Jurassic World: Fallen Kingdom continues on its marketing binge. That means it's time for more TV spots and, unfortunately, these both show off some more footage from the latter half of the movie after the volcano. So if you're trying not to watch this movie 10 seconds at a time via TV spots, it might be best to skip these.
Next we have another of the movie's behind-the-scenes featurettes, which are actually the coolest part of this marketing so far. Star Chris Pratt talks to a safety diver when it comes to underwater stunts. These little videos highlighting the people who make movie magic happen should be a more regular thing.
Finally, IMAX has released a new poster from the upcoming movie featuring part of the opening scene we saw at CinemaCon last month. Chomp chomp goes the T-Rex.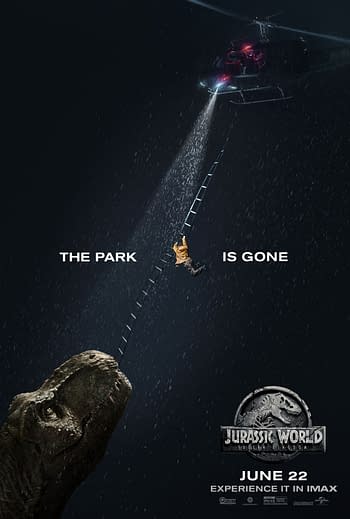 Summary: When the island's dormant volcano begins roaring to life, Owen and Claire mount a campaign to rescue the remaining dinosaurs from this extinction-level event.
Jurassic World: Fallen Kingdom, directed by J.A. Bayona, stars Jeff Goldblum, Chris Pratt, Bryce Dallas Howard, Toby Jones, James Cromwell, Ted Levine, Geraldine Chaplin, Rafe Spall, B.D. Wong, and Justice Smith. It will be released on June 22nd.