If you've seen any trailers for The Nutcracker and the Four Realms you've heard the very distinctive voice that actress Keira Knightly uses for her version of the Sugar Plum Fairy. Knightly spoke to Entertainment Weekly about the inspiration she had for the voice and even more specifically the laugh.
"I watched hundreds of 'Dances of the Sugar Plum [Fairy]' and I thought, 'They're all amazing and I can't do any of that,'" she opines. "The tune is arguably one of the most famous musical motifs. I thought, 'Oh, maybe I can use that [melody] in my bit and maybe I can laugh that.'"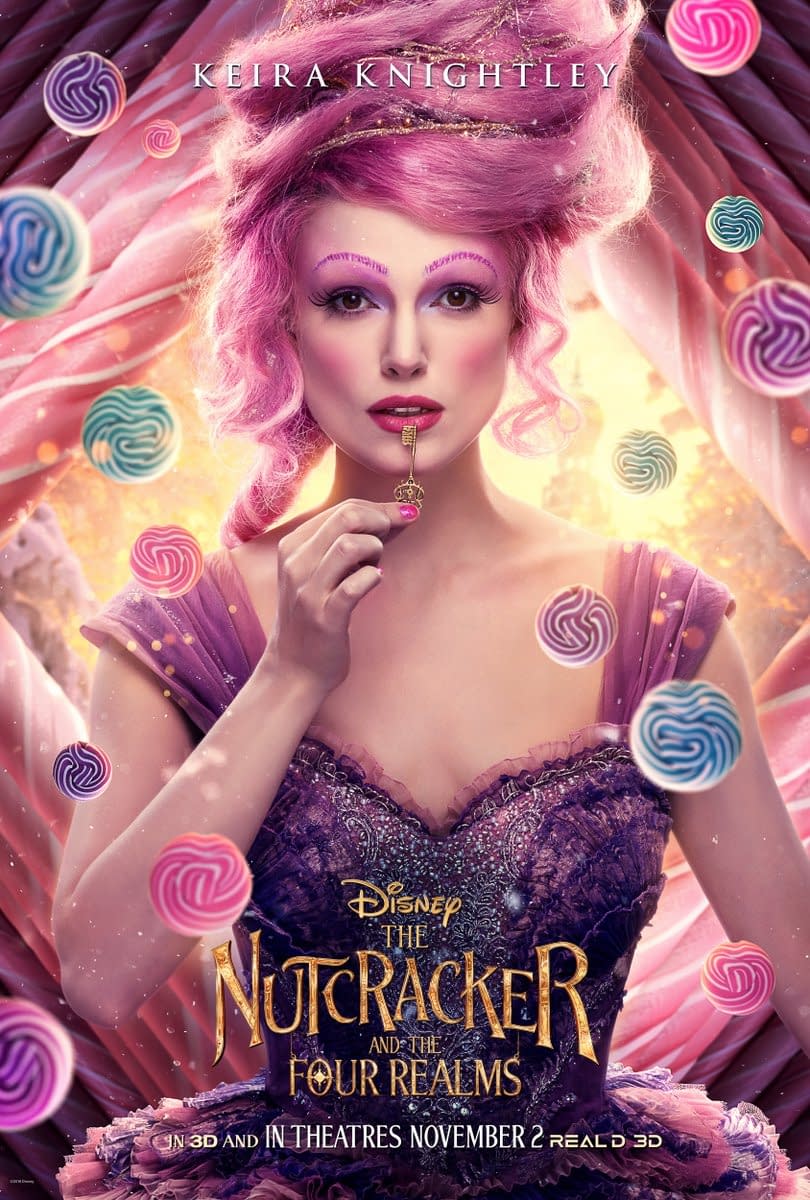 Knightly went on to explain that there wasn't that much to go on when giving the Sugar Plum Fairy a voice so she based it on watching the ballet and taking in to account that this was a fairy quite literally made of sugar.
"The only thing I've got to go on is the Sugar Plum Fairy which is sugary and sweet, so maybe the voice needs to go up there and meet that musical motif," she explains of her process, immediately jumping into Sugar Plum's dulcet, high-pitched tones. "She's got this higher voice, so she's very sugary and very sweet. That all came from watching the ballet."
Knightly mentions that were a lot of things that drew her to this role but one of them was just how sweet and magical it all was. She explains that she had just come off a Broadway run playing Thérèse Raquin which she describes as "murderous and psychotic and horrific". This was something completely different and she wanted to approach this and really embrace a pink fairy made of sugar.
"I wanted the opportunity to play a sweet, sugary, pink fairy that was really, really silly. … Honestly, my whole vibe with it was to be as unsubtle and as silly as possible," she says. "And as pink and as sugary as possible. When you've been thinking about those [gender] things and you've been pushing against it, sometimes it's really good just to be frothy and pink and sugary. Just go for all of them."
The embargo for The Nutcracker and the Four Realms came down yesterday and you can read our review here.
Summary: A young girl is transported into a magical world of gingerbread soldiers and an army of mice.
The Nutcracker and the Four Realms, directed by Lasse Hallström, stars Mackenzie Foy, Keira Knightley, Morgan Freeman, Matthew Macfadyen, Helen Mirren, and Eugenio Derbez. It will be released on November 2nd.
Enjoyed this article? Share it!