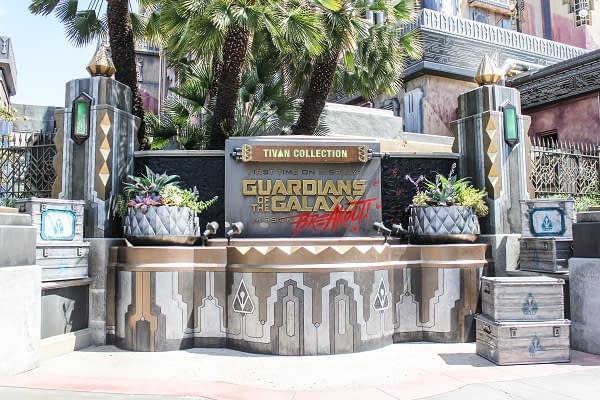 Last week was insane. On Monday, I decided I was going to San Diego Comic-Con, got on a flight, found crash space, and got a badge — all in two days. I don't like to plan anything, so let's hope I never have to plan a wedding. Since San Diego is pretty close to Anaheim (by an hour and 40 minutes), I rented a car and drove out to Disneyland. Traffic wasn't bad, so I made great time, bought my one-day park hopper pass ($165), and spent seven hours between two parks.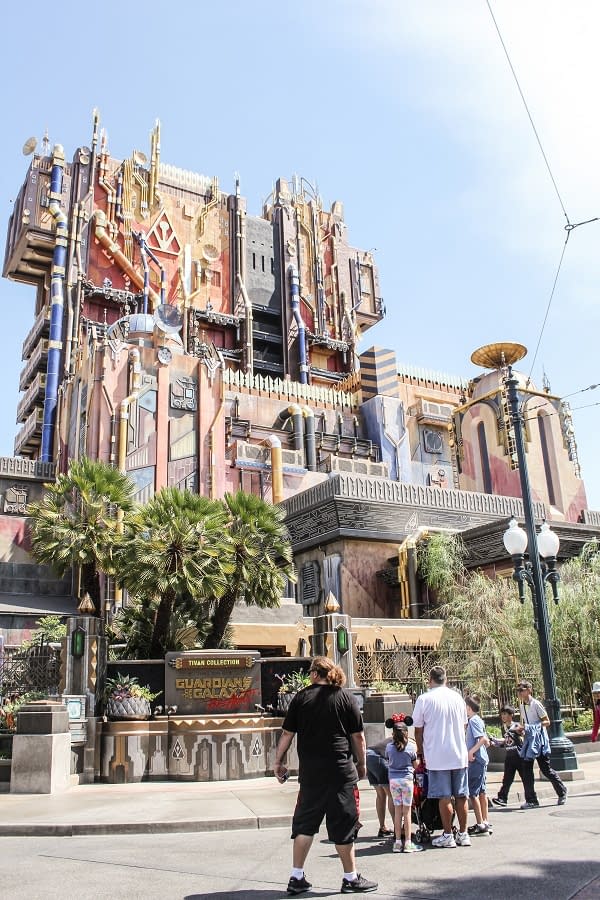 I had one goal for this expensive day trip: to experience the new Guardians of the Galaxy ride. Since replacing the Tower of Terror in May, Guardians of the Galaxy: Mission Break Out has had 100+ minute waits daily. The ride is located near the Summer of Heroes area in the Hollywood Land section of Disney's California Adventure, which I'll get to later. I had the disability services pass, so it only took me 5-10 minutes to get on the ride.
The pre-show is awesome. The Collector welcomes you into his office, and starts talking about stuff. Rocket Raccoon steps in and messes up the video, and tells the audience he needs our help to escape. The animatronic for Rocket is incredible and the setting and overall theme of the ride goes above and beyond what I've seen Disney do in the past, and really gives us some great insight as to what's coming next from Disney parks.
You will hear one of six different songs the Guardians soundtrack as you ride, as well as different scenes you'll see on each level of the building. They all feature the Guardians fighting some weird-looking space monster, and at the very top of the building you get a stunning view of Disneyland, where Rocket asks "Hey, is that Disneyland?"
It is a drop ride, so if thrill rides are not your thing you should skip this. But if you're about that life, I urge you to run over to California Adventure and ride this. Ride it as many times as you can. I loved the heck out of this ride and I can't wait to visit Disneyland again!
Enjoyed this article? Share it!