Lilo & Stitch is the latest film from Disney to get a new set of enamel pins from Mondo. These are designed by Ana Sebastian and Mondo stalwart Matt Taylor. Lilo dancing, the two of them hugging, and two different Stitch profile pins are available. The Elvis pin is pretty nice. These Mondo pins have been a massive hit for them so far, including their awesome Nightmare Before Christmas sets and their epic Fantasia Mickey pin that was released not too long ago. They even put Magic The Gathering pins up this week. You can check out the pins ones below.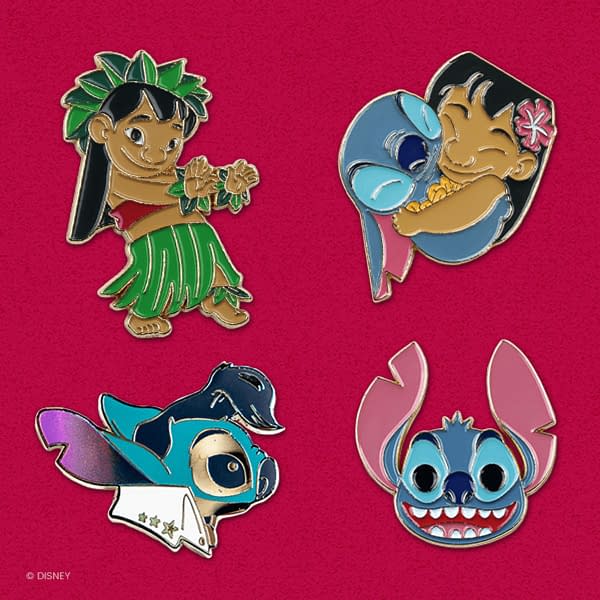 Mondo Lilo & Stitch Pins
"A mischievous runaway alien. A free-spirited young girl. A delightful Disney animated classic. This week we are excited to bring you our very first enamel pins for Disney's LILO & STITCH just in time for 'Stitch Day!'
Madrid-based illustrator Ana Sebastian's designs of Lilo, Stitch, and 'Ohana reflect the adoration she feels for this film, personally heralded as one of her favorites of all time. Sebastian's colorfully whimsical artwork captures the love and joy this movie emanates and is a phenomenal premiere from Sebastian for Mondo. Joining her stellar selections is a charming Elvis Stitch designed by the inimitable Matt Taylor.
If you or your family love Disney's LILO & STITCH like we do, don't leave these pins behind. All four are on sale now."
I am so glad these are popular because, as a Disney Pin Trader, I can't always get down to the parks for new pins. These are a great addition to this line, but there are so many more properties that they need to get to in this line. Hopefully, this is just the tip of the iceberg. Mondo is also having a Buy 3, get a fourth free sale on their enamel pins right now, so take advantage.
Enjoyed this article? Share it!