Danielle Mick writes from New York Comic Con,
Welcome back, Creampuffs. We haven't spoken in awhile. I am coming to you with all kind of questions, comments, and concerns regarding the Carmilla feature film, set to release October 25th. Myself and the fellow members of the creampuff army were thrilled to see co-stars Natasha Negovanlis (Carmilla) and Elise Bauman (Laura) alongside their wonderful producers and creators Steph Ouaknine and Melanie Windle.
Carmilla, the little web series that could, is well regarded among fans for the inclusive casting— featuring an entire cast of female and non-binary actors, their "token male", and multiple people of color. "It was important for us to include more queer women of color," Steph explained. The project as a whole has been jokingly referred to as "Gay inception!" There are queer actors playing queer characters and queer producers.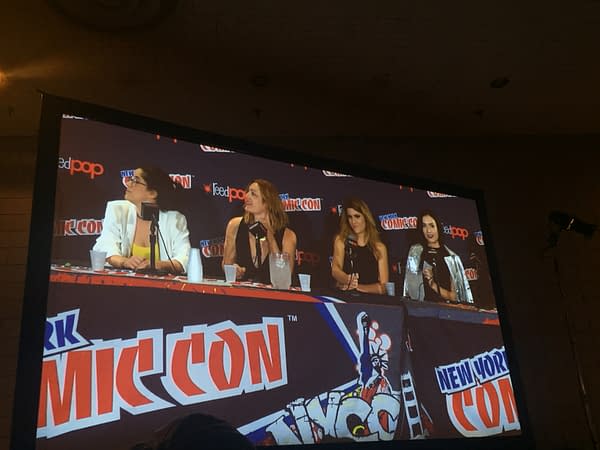 Throughout the length of the panel, we were assured that there wasn't going to be an angst-driven love triangle involving Carmilla, Laura, and Carmilla's first love. "It's an easy shortcut to conflict, because you put that between two people and it's an easy thing to write," Windle stated, "I think we want to write ourselves into problem and make it complicated for us as writers, and if we see an easy way out of it, it's ABCD done and that's why it's repeating in media. We tried to stray away from that." They spoke a lot about the things that they were trying to avoid such as psycho lesbian ex girlfriends and cliche end of the world tropes.
Natasha and Elise got into their feelings when asked to reflect on their journey and how happy they were to be able to be a part of a project that really resonates with their fan base. "It is amazing to be making great strides in a business that is slowly starting to bring in queer representation." Elise commented. Natasha showed her appreciation of both the cast and the viewers in a heartfelt moment: "It changed our lives and it changed a lot of your lives and how amazing is that; how rare is that." The four were ecstatic to talk about some of their new cast mates, and the fans were stoked to hear about it. Every time newcomer Dominique Provost-Chalkey was mentioned, the crowd went wild. The actresses went on to explain that adding new characters to the mix, along with varying perspectives and movable cameras, did not change the dynamic of the project, but increased the work as a whole.
"I feel like every year we just keep collecting new people. It's like a tumbleweed and we somehow keep grabbing onto the most wonderful people to work with." (Elise Bauman)
Melanie Windle told the story of the birth of her child. She went into labor two hours after a note call in the developmental stages of the film. She, and the rest of the panel, spoke highly about her ability and choir to raise her baby throughout the process of filming. (Of which they had two weeks) She made it very clear that it is possible to have a family and a career as an artist— making a choice between the two is not a necessity. As the panel came to a conclusion, the four were happy to announce a few queer artists that did music for the film. Feel free to scream in excitement, it's okay. The soundtrack will feature songs by Tegan and Sara, Uh Huh Her, Moona, and an original Laura and Carmilla love theme that acts as a throughline in the film.
If that isn't enough juicy news for you, creampuffs, I have something else. The official Carmilla Movie trailer has dropped. That's right. Run to YouTube! It's waiting for your viewing pleasure.
Enjoyed this article? Share it!