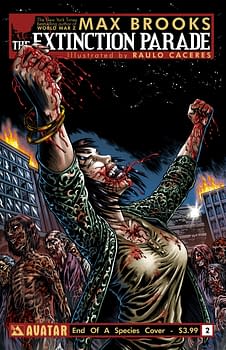 Yesterday, Bleeding Cool broke the news that World War Z writer Max Brooks' comic series, Extinction Parade, was going through the process of becoming a TV series.
Then someone had the bright idea of asking Max. In French.
Here's a re-translation, from Francois Leger's piece for Reviewer.fr.
Are you really negotiating to adapt The Extinction Parade on TV ?
Yes, yes. But I want to make the distinction between the television networks and the production company. Sometimes people get confused, and they say 'Oh ! Are you talking to HBO ?' And I say no, no, no. It is a company, a very famous company that makes a lot of very famous movies, but I can't say their name until the ink is dry. But yes, we are negociating the deal right now. They wanted it as soon as it came out, several months ago
Do you aim a specific network ?

We don't have a specific channel yet. I think the first thing we have to do is figure out what kind of show we want it to be, and find the network that would be appropriate. For example if it's going to be very dark and very difficult to watch for young people, we say we won't take it to the Disney Channel.
Is it gonna be really faithful to the comic book ?

I don't know what has to change for a television audience, because a television audience is different from a comic book audience. But the one thing that the company has agreed to, which is the most important thing for me, is that the theme, the message, will be the same : what we think makes us strong, actually makes us soft and weak. The vampires, they think they have all these gifts, strength, agility, immortality. All these gifts is exactly what makes them soft, and unable to apapt. And that's the whole reason I wrote it. As long as we keep that, then we can make cosmetic changes. I don't mind, but I don't wanna change the message
But you want to keep the vampires, not replace them ?
Ho no, no, non. There is got to be vampires. We're not gonna make them Hobbits !
As ever, Extinction Parade is published by Bleeding Cool's owner, Avatar Press.
Enjoyed this article? Share it!