Mondo Has a New Spider-Man: Far From Home Matt Taylor Poster Available
Mondo is releasing two new Spider-Man: Far From Home posters tomorrow at the usual random time. The posters are by artist Matt Taylor, who has crafted many, many MCU posters for Mondo over the years. Avengers, Iron Man, Thor, Spider-Man, Guardians of the Galaxy, you name it. The first version of the poster will feature Spider-Man swinging into action with Mysterio and Molten Man behind him, while the more elusive variant will feature Night Monkey in place of Spidey with a cool green tint to it. The regular version is limited to 300 pieces for $55, while the Night Monkey variant is limited to 150 and costs $75.
Keep your eyes peeled to Mondo social media, or just F5 like a maniac here all day tomorrow for your shot at these sure to sell out posters. Check them both out below.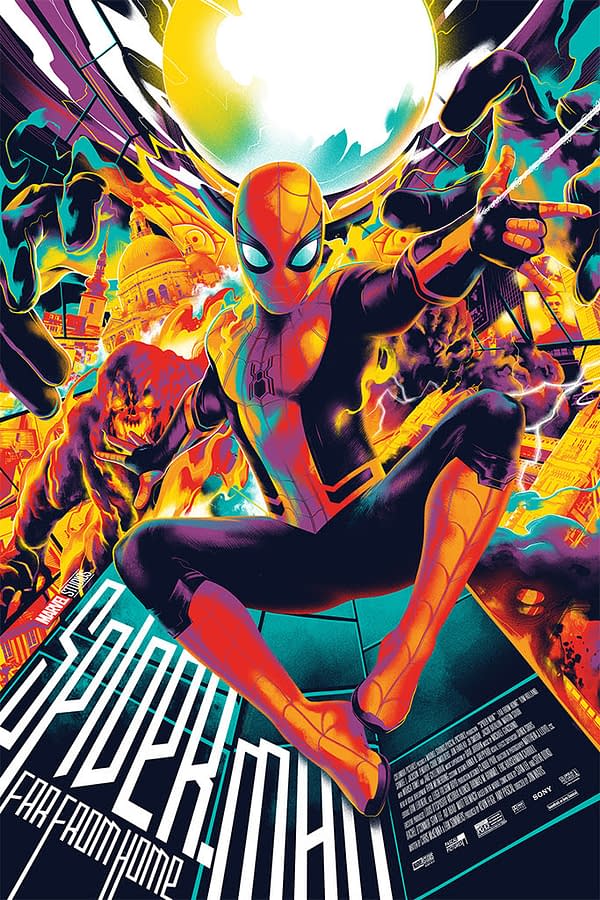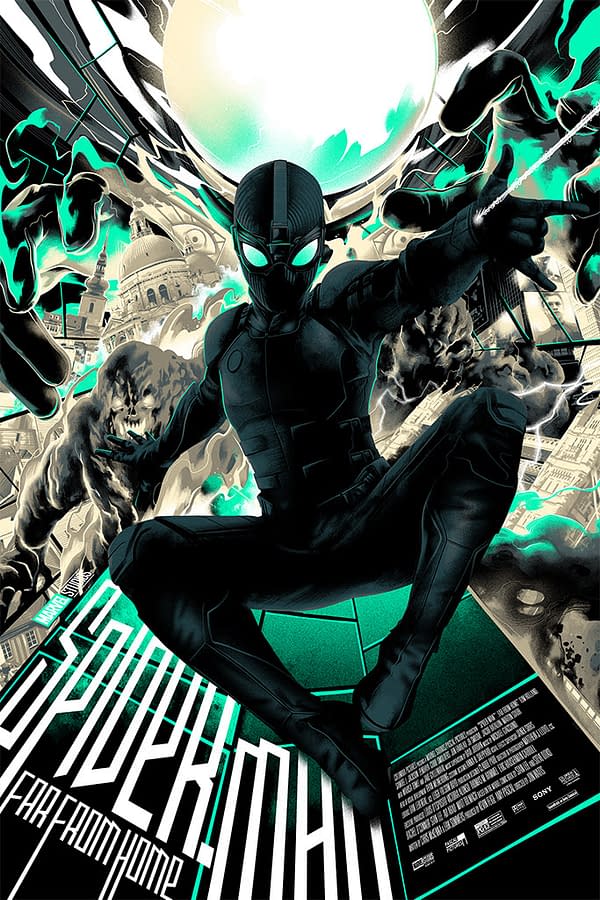 It's the dawn of a new decade and we're looking forward to what's to come in 2020… and to get it started right, we're excited to swing into the new year with a pair of posters for SPIDER-MAN: FAR FROM HOME by the amazing Matt Taylor.
Last month we released a timed edition of Matt's poster for AVENGERS: ENDGAME, and we're proud to follow that up with a poster for the next entry in the MCU. SPOILER WARNING, but by now who hasn't seen these movies? Either way, you've been warned. The film follows Peter Parker as he wrestles with the fallout of AVENGERS: ENDGAME and The Blip, an event in which the effects of Thanos' population decimating snap were reversed. Thanos is no more. Heroes and mentors are gone. Five years have passed. The world has changed. On the bright side, Peter and his classmates get to go on a European field trip, so it's not all bad, right? Despite dealing with some heavy themes, this film is a lot of fun and just like with SPIDER-MAN: HOMECOMING, it's a blast to see Spider-Man outside of New York and operating in the wider world. Plus, we have the first live action appearance of Mysterio, and trust us, he's great. As usual, Matt did awesome work here. From the rendering and detail on Spidey (and Night Monkey!) to the looming presence of Mysterio, there's a lot to soak in with this poster and we love it.