Mondo Music Release of the Week: Jurassic World: Fallen Kingdom!
Mondo releases new vinyl special editions every single Wednesday. They are they ultimate edition of whatever they put out, featuring extensive liner notes, brand-new commissioned artwork, and always have a limited-edition size. The vinyl itself is usually colored or a photo disc, as well. Basically, it's like the Criterion Collection of movie and gaming soundtracks. This week sees the release of the soundtrack to the newest film in the Jurassic World franchise, Fallen Kingdom!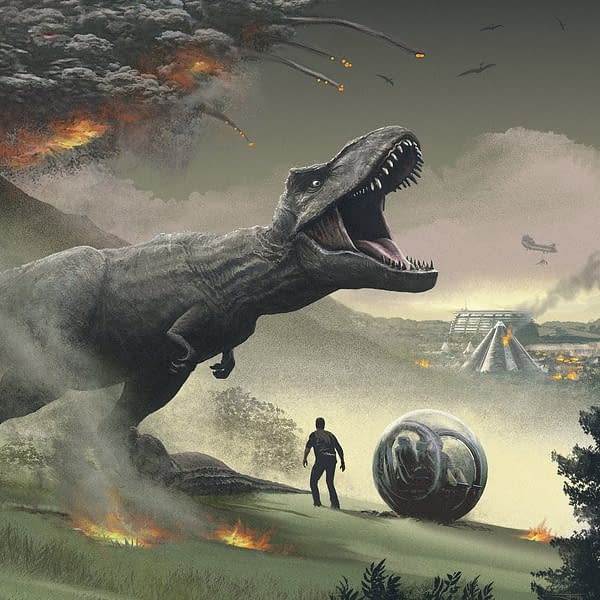 Mondo, in partnership with Back Lot Records, is proud to present Michael Giacchino's incredible soundtrack to JURASSIC WORLD: FALLEN KINGDOM.

It's been four years since theme park and luxury resort – Jurassic World – was destroyed by dinosaurs out of containment. Isla Nublar now sits abandoned by humans while the surviving dinosaurs fend for themselves in the jungle. When the island's dormant volcano begins roaring to life, Owen (Chris Pratt) and Claire (Bryce Dallas Howard) mount a campaign to rescue the remaining dinosaurs from this extinction-level event. Owen is driven to find Blue, his lead raptor that's still missing in the wild, and Claire has grown a respect for these creatures she has now made her mission. Arriving on the unstable island as lava begins raining down, their expedition uncovers a conspiracy that could return our entire planet to a perilous order not seen since prehistoric times.

JURASSIC PARK: FALLEN KINGDOM is some of the most fun we've had in the theaters this year. And Giacchino's score, which returns more to his penned JURASSIC WORLD score than the John Williams' cues that bridged the gap in the last film, is evocative of classic Universal horror and haunted house movie scores, breaking from the pack of previous JURASSIC scores. Much like the film itself, Giacchino creates a fun, fresh take on the music of the "Man creates Dinosaurs… Dinosaurs eat Man" series.

Mondo's web exclusive version of this 2XLP is pressed on 180 Gram Indo-Raptor colored vinyl (Translucent Green with Orange Stripe and Yellow Splatter). Also available on Black vinyl. Featuring original new artwork by JC Richard.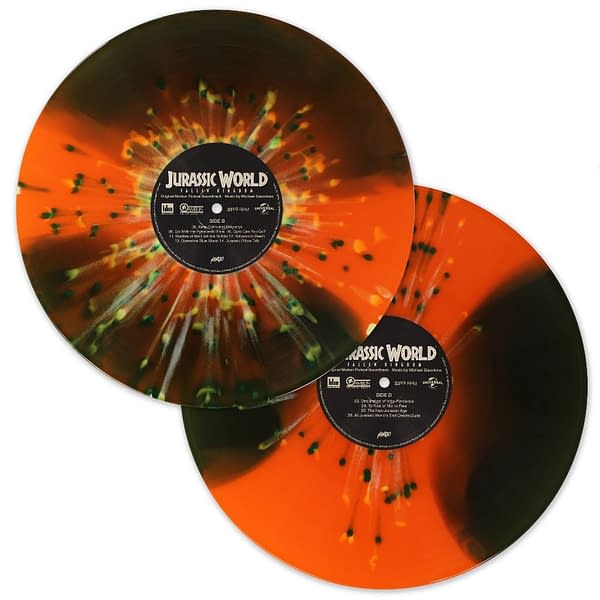 As with all Mondo releases, this will go up for sale on Wednesday at Noon central time. The edition size for these releases are limited as always.It is never worth risking waiting with these. You can grab a copy today right here.