Mondo Music Release Of The Week: Nightmare Alley
Mondo will release the soundtrack to Guillermo del Toro's underrated Nightmare Alley by composer Nathan Johnson this week.
---
Mondo releases new vinyl special editions every single Wednesday. They are the ultimate edition of whatever they put out, featuring extensive liner notes, brand-new commissioned artwork, and always have a limited-edition size. The vinyl itself is usually colored or a photo disc, as well. Basically, it's like the Criterion Collection of movie and gaming soundtracks. This week sees the release of the soundtrack to the criminally underrated Guillermo del Toro film Nightmare Alley from composer Nathan Johnson. The score will be spread across two 140-gram "Gold Nugget" discs. You can check it out below.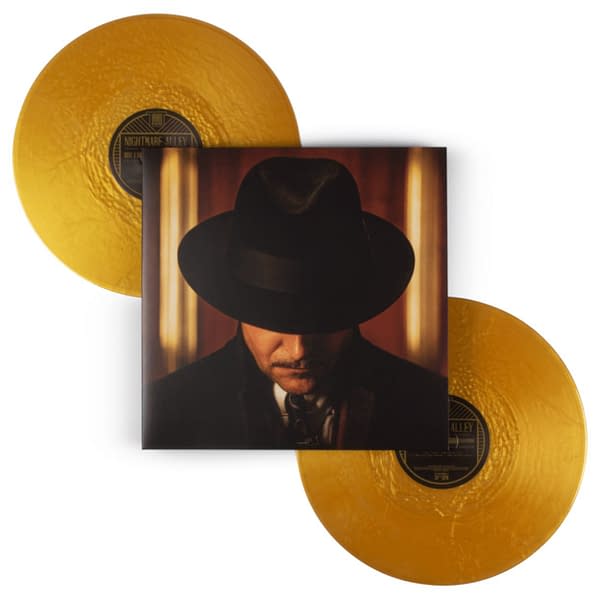 Mondo Nightmare Alley Release Details
"Those familiar with the incredible work of Nathan Johnson will not be surprised by his melody-forward approach to such a dark and cynical film. Occasionally bleak but always gorgeous, the film delivers on its promise of grifters and hubris, but Nathan's score balances the equation with a propulsive and somber, and simple score. Nathan Johnson and Guillermo Del Toro made beautiful music together. It is a brilliant partnership, one that I hope continues into future productions. Pressed on 2x 140 Gram Gold Nugget Vinyl (also available on 2x 140 Black Vinyl) and housed in a gold-foil stamped gatefold jacket, wrapped in a foil stamped belly band, and featuring a bonus track by Hoagy Carmichael ("Stardust") not available on the digital album."
Nightmare Alley was way better than most people gave it credit for, and history will be kind to it. The score was magnificent, so getting a chance to add this to the collection from Mondo will brighten up my week when it goes on sale in The Mondo Record Shop on Wednesday. Not sure how fast this one will go, but del Toro fans and collectors are legion, so you may want to grab this asap when it goes up at noon CST.