More Fun Than A Barrel Of Monkeys: SyFy Network's 12 Monkeys Panel
Adam Wolfe writes for Bleeding Cool: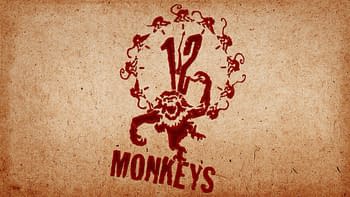 Justin harp dove straight into the action, letting the crowd see a 10 minute exclusive (though he admitted that some people saw the entire piolet last night so I don't know how exclusive it could have been) footage of 12 Monekys. The scene opens with a decimated post-apocalyptic world. A man later revealed to be John Cole, is scavenging through the wreckage and finds a wrist watch. Smiling he says "see you soon." The scene shifts to 2013, thirty years in the past. A blonde woman is giving a lecture to a room of doctors warning of the dangers of a new plague wiping out humanity. When she enters her car, Cole is waiting for her. He seems very disheveled and is visible pain. He questions the doctor revealed to be Cassandra Railly, about her connection to man named Leland Frost. When she offers him nothing in response he realizes he was sent too far in the past. Realizing the cops are on their tail, Cole drags Cassandra into an abandoned building and explains he is from the future. Naturally Cassandra doesn't believe him. Cole shows Cassandra her watch he picked up in the future (off her corpse) and shows the same watch is currently on her wrist. In what was probably the coolest scene of the teaser, Cole takes a knife and scratches Cassandra's present day knife. The screen begins to shake, the lights flicker and a large scratch appears on Cole's version of the watch. He claims "break the past and the future follows" After a brief shootout Cole tells Cassandra to meet him in Philly two years from today and disappears presumably back into his own time.
The biggest challenge 12 Monkeys is going to face is distinguishing itself from the Cult 1995 classic film. Justin Harp, a producer for the show, admitted he never actually watched the film (receiving some boos from the crowd of course.) Terry Matalas who did some work for the original film confessed that when originally asked if 12 Monkeys could be a T.V. series he said "oh god no." since then he has changed his prospective (obviously) saying that "cool time travel" and a strong "anti-hero" presence could make the show work. He constantly alluded to the success of Dr. Who, to defend his claim that a time traveling T.V. show could be a smash hit. Natalie Chaidez, a SyFy executive claimed that the T.V. show can "explore things the movie can't," and "create a more in depth captivating world."
Production for the show has had its own challenges but Harp and Matalas seemed to have some fun with them. For starters there are two casts one for the future, and one for the past. This makes filming and scheduling a bit different as a lot of actors need to be involved. (sadly Brad Pitt was busy.) The other, probably biggest stressor was determining the rules of time travel in this universe. Harp called the process "exhausting" and ensures the audience that we will learn the rules as Cole does.
Though the overall concept may be the same, the 12 Monkeys series will be extremely different from the films. The biggest change comes from Brad Pitt's iconic character Jeffery Goines, being re-casted as a woman. The new Jennifer Goines is going to be played by Emily Hampshire. She is "a bit more dangerous, a bit more maniacal than the incarnation from the film" claims Hampshire who brought a vibrant energy to the panel I can only imagine will carry over to the show. she also admitted she has had not seen the film until after her audition. she was "glad she didn't" because she would not have been able to shake off the weight of Pitt's "iconic" performance. She claims in this way, she was able to reach her own connection the the character rather than "try to live up" to what Pitt established. Other changes include Kathryn Railly being changed to Cassandra Railly, and John Cole become a much more brutal and lethal man than Bruce Willis' interpretation.
Twelve Monkeys is set to premier Friday January 16th at a 9 oclock time slot on the Syfy network. This has some series implications as to the future of the WWE's Friday Night Smackdown as well. Ignoring the jabronis for a second, Twelve Monkeys looks like I can be a seriously awesome adaptation of a seriously awesome movie. Projects like this can give the SyFy network a bit more credibility than the Sharknado films. Hopefully 12 Monkeys has a very bright future ahead of it.