Posted in: Disney, Movies, Star Wars | Tagged: disney, Disney food, nerd food, porgs, star wars
---
Nerd Food at Home: Make Your Own Adorably Grumpy Porg Madeleines
Happy Monday, everyone! Do you have a day off today due to the holiday weekend? Or maybe you're on Spring Break and need something to do. Either way, this is the perfect day to try your hand at these adorable Porg Madeleines!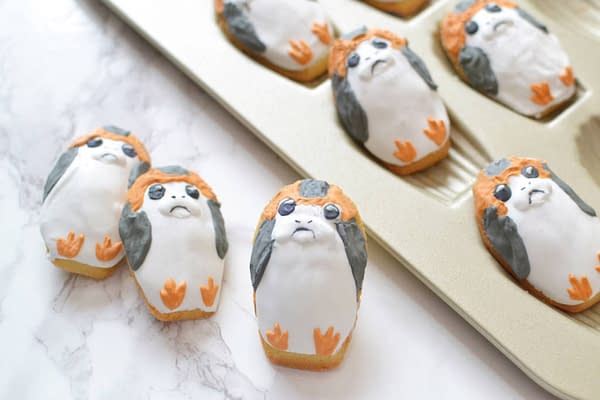 Ingredients
MADELEINES:
Pastry brush
Madeleine scalloped pan
4 Tbsps (1/2 stick) unsalted butter, at room temperature
1/2 Cup all-purpose flour
2 eggs
1/3 Cup granulated sugar
1/4 Tsp salt
1 Tsp vanilla extract
ROYAL ICING:
2 Cups powdered sugar
1 1/2 Tbsps meringue powder
1/2 Tsp vanilla extract
1/2 Cup water
Piping bags and 2 tips
Black, orange, and brown food coloring
Toothpicks
Directions
Preheat oven to 375° F.

Using a pastry brush, coat a 12-mold madeleine pan with melted butter and some flour. Ensure that the ridges of the pan are well buttered and floured. Turn the pan upside down and tap to remove the excess flour.

In the bowl of a stand mixer, combine the eggs, sugar, and salt and mix on medium-high speed until mixture is pale, thick, and fluffy. Then beat in the vanilla extract on low speed.

Sift the flour over the egg mixture and beat on low speed to combine. Then using a rubber spatula, fold in half of the melted butter until just blended. Then fold in the remaining butter.

Divide the batter evenly among the molds (about 1 tablespoon each). Bake for 8-10 minutes.

Remove the pan from the oven and flip upside down onto a wire rack to release the madeleines. If any of them stick, use fingers to loosen the edges and try to release again.

While the madeleines cool, make the royal icing. Add powdered sugar, meringue powder, vanilla extract, and water into the bowl of a stand mixer with the whisk attachment. Start mixing on low until incorporated and then beat on medium-high until stiff peaks form (around 5 minutes).

Divide the icing into separate small bowls. Color each one with a different color: black, grey, brown, orange, and keep one plain white.

Decorate the madeleines with the royal icing using piping bags and tips. Starting with the white belly, then grey/brown feathers, and orange around their eyes. Then use a toothpick to draw the eyes, nose, and mouth with black icing.
---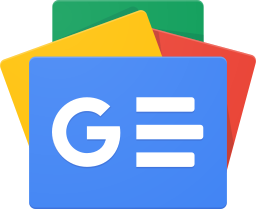 Stay up-to-date and support the site by following Bleeding Cool on Google News today!