NYCC '15: SyFy's Hunters – Homeland With Aliens
By Madeline Ricchiuto The panel opened with the premier of the show's first trailer which promises an action-based alien thriller show about an extraterrestrial task force which is trying to rescue humans who have been kidnapped by an alien race called Hunters.
The speakers included "Hunters" star Britne Oldford, Special Effects artist Justin Dix, Showrunner Natalie Chaidez, and Executive Producer Gale Anne Hurd alongside author Whitley Strieber .
The basic feel of the show is "Homeland with Aliens" as it is an allegory for terrorism, which Chaidez was very fond of reminding the audience.
"Reagan is the most valuable member" of her extraterrestrial unit, the ETU, and a Hunter who helps track down her own kind. "I think there is a conflict there with having to constantly face the fact of not really fitting into one group or another by constantly working against your own kind," Oldford said about her character.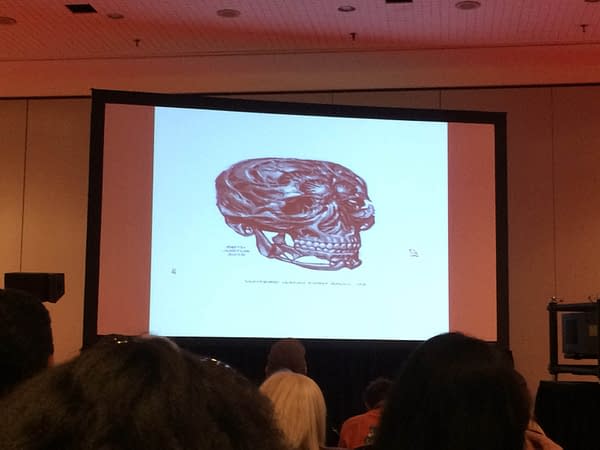 The show mostly relies on old school practical special effects with new tools rather than rely on CGI and having to fix everything in post-production. Dix brought along some artwork of his Hunter creations, including his design for the aliens' skulls. Chaidez worked with Dix on creating the aliens. Dix used 3D printers to create the Hunter skulls. The model of the skulls will be live so people with 3D printers can produce their own. They look pretty cool. Also there is an alien back-birth scene in the show, so you have been warned.
Dix really wanted to bring back practical effects back, because it "really grounds the show." Strieber is very happy with the show, particularly with the use of practical effects. "The more you can use practical effects, the better."
Striber may be a bit of a conspiracy theorist. He mentioned Hawking's comments that humanity making contact would be dangerous and supposedly George HW Bush had a similar comment about not being ready for the truth. "I'm not ready for the truth." He also joked about his fears with the show "what if they are real and they don't like this, what will happen to the guy that wrote it?"
Chaidez and Hurd took on the project because they love science fiction stories. Chaidez has been working on the show for the last few years, working with Dix to help give these aliens life. Seth Justice has also been brought onto the project to help craft the creatures. They are sound driven and that has been crafted into their designs and movement. The Hunter actors had to work with a moving coach to learn to move as a Hunter. For Oldford it is a bit more difficult, learning to move as a "Hunter" would as a human. Learning different fighting styles. "She's been through Hunter boot camp." – Hurd
"Reality can be hard, and these genres give us a platform to deal with our own reality in a way that is interesting… And can really help people." – Oldford
Gale Anne Hurd, who is a producer of The Walking Dead, is excited for Hunters "in The Walking Dead, the zombies can't talk to you, but in Hunters they can. We have given a voice to the monsters."
About the book getting picked up as a shoe: "You take a journey like that and a series is the ideal format." – Strieber
The cast and crew were also very excited to film in Australia. Because of Vegemite, the skill of stuntman Mitch Deans, and new faces to put on the screen. Much of the cast are local Aussies.
SyFy let the writers finish scripting all 13 episodes before filming. The show is slated for 2016. Q&A
Q: "Gale and Natalie, do you seek out opportunities to create strong female characters or does that just happen?"
– "Do I set out to create a female character? Yes. With Regan, she does a lot of dark stuff.. And I think for women we don't often get an opportunity to explore the Hunter inside." – Chaidez
– "I don't think I've written anything that would fail the Bedchel test… Thats not the world that I live in… Women's stories are powerful stories." – Hurd
– "A really exciting thing is that we have a female DP on every episode… And look at all the women working in Justin's shop?"
Q: "What did you look for in Britne's audition?"
– "they didnt see me as Britne, they saw me only as Reagan." – Oldford
-"there was something other in per performance that really drew me to her. " – Chaidez
-"theree was also something very mysterious about her performance." – Hurd
Q: "Justin, what inspired you to go into this line of work, who were your influences."
– "One of my early influences was James Cameron, as he started as an Art Director… He likes to get his hands dirty… and I can be a perfectionist myself." – Dix