NYCC 2016 World Premiere of Batman: The Return of The Caped Crusaders 
by Chuck Brouillette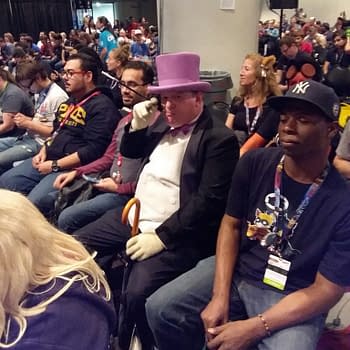 Warner Bros Animation debuted Batman: The Return of The Caped Crusaders on the opening night of NYCC 2016 and it was a vintage and vigorous delight.
As always, I'll craft my insights towards comments rather than crib notes, but as they often say: Beware of Bat-Spoilers!
The film features the return of Adam West, Burt Ward and Julie Newmar as the voice talent to the Batman, Robin and Catwoman roles they created in the original Batman television series that celebrates its 50th year of Bat-fan-following in 2016.
Additions to this cast includes new actors voicing the roles of The Joker, The Penguin, The Riddler, Commissioner Gordon, Chief O'Hara and Aunt Harriet.
The opening credits kicked things off in style featuring each of the starring heroes & villains animated over recreations of their classic comic covers. A sweet tribute to the source material we never would have seen 50 years ago.
The film is (diabolically?) very self aware in it's humor with itself but never over the line, (unless you're counting The Joker's seemingly organic whoopee cushion) cute and coy with Batman '66 history. But sometimes feeling an idea-board of a story with Our Hero's slow, dark transformation to a rather ungentlemanly Bruce Wayne and uncharacteristically un-heroic Batman, propelling the plot.
Visual highlight include the richly illustrated and lush lair of The Catwoman. The debut of the interstellar Bat-Rocket. And the bold and animated return of The Penguins blimp.
In addition to the returning cast, all smooth retrofits, the voice actors, Wally Wingert, as The Riddler, and Jeff Bergman, as The Joker, made for magnificent returns to form, filling in the roles etched in stone by the two actors who are best known for creating the roles in the original series. A highlight for fans of the original series' signature Pop Art sound effects, too.
If you pay close attention you just may catch a great actor who played Gary Shandling's producer on The Larry Sanders Show, and also the man who won the popular vote for The President of The United States in 2000 getting name-checked this go- round!
All for fun and fun for all. Very clever, a real treat and true tribute to TV's First Batman Family.
Chuck Brouillette is an artist and writer living in Saratoga Springs, NY. You can see how he does both @twitter.com/chuckbrouilette